Assisi Hospice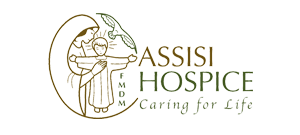 Vision
To be the leader and centre of excellence for compassionate and personalised palliative care.
Mission
The Assisi Hospice is a Catholic Charity providing compassionate, personalised and quality palliative care to adults and children with life limiting illnesses through our Inpatient, Home and Day Care services.
Our Services
Inpatient Care
Our Inpatient Care is available for patients who need specialist care and cannot be cared for at home. Our patient care focuses on managing their symptoms and pain so they can be as physically comfortable as possible. Our social workers and clinical pastoral care counsellors also offer a support system to help patients and their families to manage their psychosocial and spiritual needs.
Home Care
Our Home Care service provides a critical option for patients who prefer to be cared for at home. Our team of doctors, nurses, medical social workers and clinical pastoral care counsellors work together to support families in caring for the patient at home as long as they can, by helping them manage the symptoms of advanced illnesses. Our team is also contactable on the phone to address any urgent concern.
Day Care Centre
Our Day Care Centre provides a safe and supportive environment for patients who require care in the day while their family members are at work or school. Daily activities and therapeutic programme, such as art therapy and movement therapy, are organised by our staff and volunteers. These provide our patients social and recreational opportunities, and respite for their caregivers. Patients also take part in regular outings organised by Assisi Hospice volunteers or supporters.
The New Assisi Hospice
By end-2016, Assisi Hospice will move into a new purpose-built hospice, marking a new chapter in its history and a big leap in palliative care in Singapore. With 85 inpatient beds, an expanded Day Care Centre and enhanced Home Care capabilities, Assisi Hospice will serve more than two times the current number of patients every year. The 6-storey facility will also house a dementia-friendly ward and a Paediatric Care Ward, providing specialised care to patients with dementia and children with life-limiting illnesses.
The new patient-centric hospice will provide a comforting home-like environment that caters to the needs of patients and their families. There will be cosy communal spaces for patients and families to interact, green spaces for all to relax and private spaces for families to be on their own. Assisi Hospice will also make use of IT and technology for better patient care.