Mount Alvernia Hospital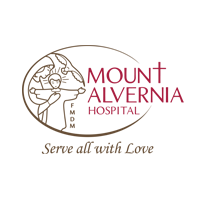 Vision
Mount Alvernia Hospital seeks to continue and embody the healing ministry of Jesus Christ to serve all with love.
Mission
Mount Alvernia Hospital shares in the world wide mission of the Franciscan Missionaries of the Divine Motherhood, providing compassionate, excellent and holistic healthcare.
Our Services
Pastoral Care
Pastoral Care is available to everyone, regardless of race, nationality or religion. The Clinical Pastoral Care (CPC) team is sensitive and respectful of different faith traditions, beliefs and cultural needs. Chaplains or spiritual guides of other religions are welcomed to visit at the request of our patients.
Clinical Services and Specialties
Clinical Services such as health screening, day surgery, diagnostic imaging, rehabilitation, 24h walk-in accident and emergency etc. with a wide range of specialties are offered.
Community Outreach – Health Management
Mount Alvernia Outreach Medical & Dental Clinics
The outreach clinics aim to provide heavily subsidised primary healthcare services for the vulnerable and marginalised who have fallen through the cracks of the conventional safety net to create a healthier community and a positive impact on individual's health improvement.
Medical Clinic @ Enabling Village
20 Lengkok Bahru #01-03 Block Playground Singapore 159053
Tel: +65 6473 5100
Operating Hours:
Mon & Fri: 9am to 1pm | 2pm to 6pm
Tue, Wed & Thu: 12pm to 4pm | 5pm to 8pm 
Medical Clinic* @ Agape Village
7A Lorong 8 Toa Payoh #02-07 Singapore 319264
Tel: +65 6262 4312
Operating Hours:
Weekly, every Thu:  6.30pm to 8.30pm (closed on Public Holidays)
*Queue numbers will be given out at the clinic on a first-come-first-serve basis and capped at 20 patients per session.
Patients may call the clinic to check on the available slots/queue status before visiting the clinic.
Dental Clinic** @ Agape Village
7A Lorong 8 Toa Payoh #02-07 Singapore 319264
Tel: +65 6262 4313
Operating Hours:
Mon to Fri: 9.30am to 1.00pm | 2pm to 5.30pm
**appointments required
Mobile Clinic
To make healthcare services more accessible, a mobile clinic has been put in place. Regular visits are made to ex-prisoners at halfway houses, women and children staying at shelters, or elderly and those with mobility issues at rental flats. From time-to-time, volunteer specialist doctors will be engaged to provide pro bono consultation for specialty specific conditions.
Tel: +65 6347 6650
Email: [email protected]