My Personal Compass Course 2023
By Rev Fr David Garcia, O.P.
The My Personal Compass Course is for all Catholics and all people of goodwill interested in formation in the foundations of Ethics and Moral Theology. The objective of this course is for participants to understand and to articulate the fundamentals of moral thinking with greater clarity.
Our lecturer, Fr David Garcia, O.P., lectures at the Major Seminary and Catholic Theological Institute of Singapore in Moral Theology and is a well-known speaker who has addressed a spectrum of issues affecting society ranging from family life, social justice, and bioethics; he has worked and/or is working with various church organisations including Office for Catechesis, Catholic Medical Guild and Caritas Singapore.
My Personal Compass is a year-long modular course on ethical issues. There are a total of 5 modules with each lasting for 6 or 7 weeks. There are no assignments or coursework to be submitted.
It is recommended that participants cover the course material and attend all five modules. Alternatively, participants may attend any missed modules in subsequent years as interest and exigencies allow.

Module 1. Who decides what is right or wrong?
Module 2. Virtues and Becoming Better Persons
Module 3. Christian Morality
Module 4. Ethics of Love, Sex and Marriage
Module 5. Stewards of Life
---
Upcoming: Module 3 – Virtues and Becoming Better Persons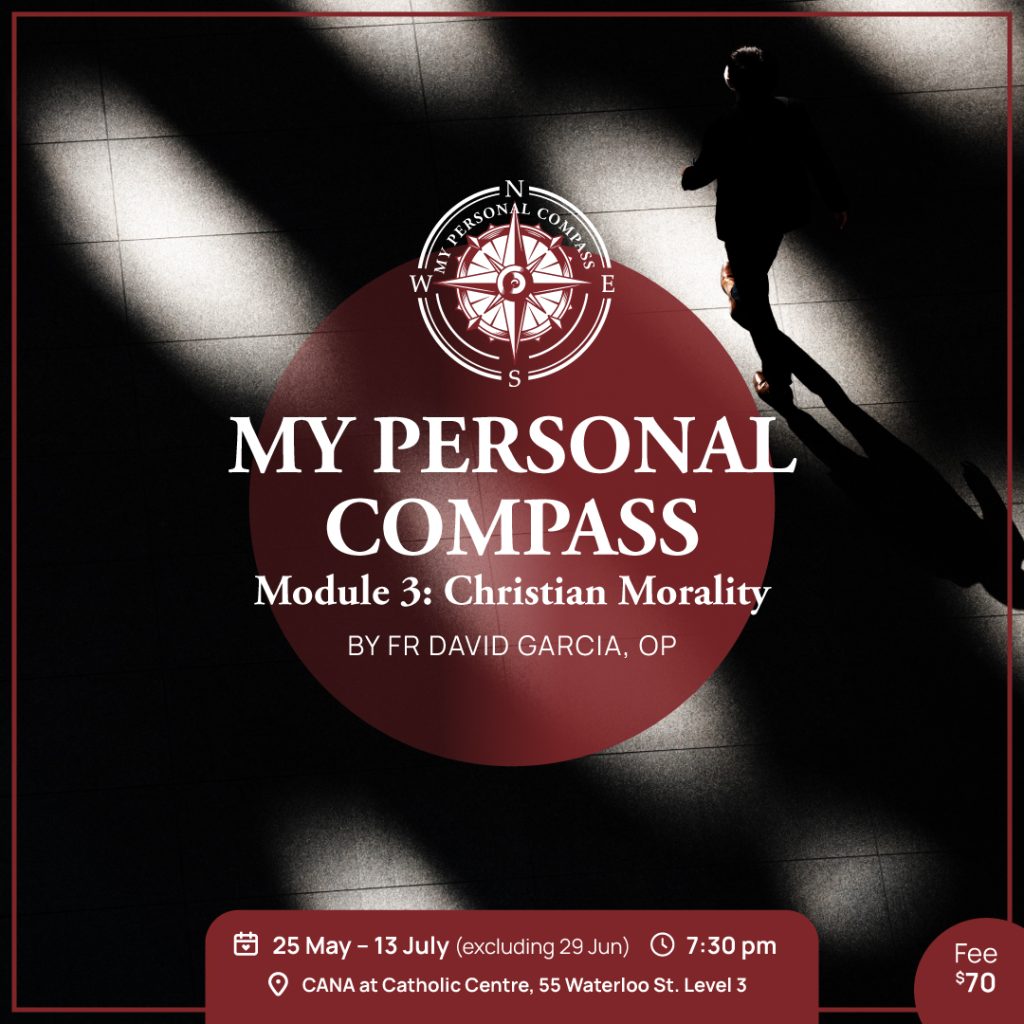 In today's marketplace of ideas, there are many different moralities, and we are often asked to keep what we believe to ourselves. But is Christian morality meant to be kept private within Christian communities? What is Christian morality anyway?
Join us as we explore why Christian morality may be the answer to the wounded human nature and the role of God's grace. We will also consider why the Church has always put so much emphasis on faith, hope and love.
Module 3: Christian Morality
Thursdays, 25 May – 13 July (excluding 29 Jun)
Fee $70
Click here to register.
For further enquiries, please email us at

[email protected]

.