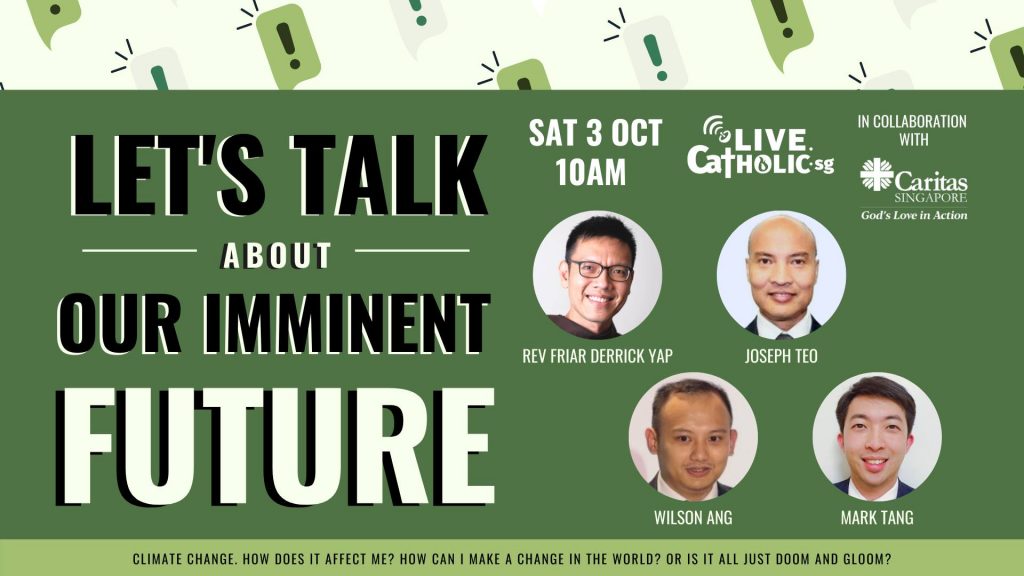 Rising sea levels. Droughts. Floods. Disrupted food supply. The severity and urgency of climate change is upon us. Yet, do we see the need for change in our lifestyle, the way we produce and consume?
Pope Francis, in his encyclical Laudato Si', calls all of us to take "swift and unified global action". But is Laudato Si' just about climate change and ecological issues?
How about integral ecology? If we look deeper, "ultimately what kind of world do we want to leave behind, in terms of its general direction, its meaning and its values? We need to see that what is at stake is our own dignity."
Join our speakers as they share their own personal experiences and the teachings of the Catholic Church on how we can change our imminent future – not just the climate, but the world we live in.
The talk show will be live on Sat 3 Oct, 10am on live.catholic.sg
Speakers:
Friar Derrick Yap, Custos for the Custody of St Anthony (Malaysia–Singapore–Brunei)
Joseph Teo, Singapore's Chief Negotiator for Climate Change, Ministry of Sustainability and the Environment
Wilson Ang, Founding President, Environmental Challenge Organisation (Singapore)
Mark Tang, Caritas Board Member and Chair, Caritas Young Adults Committee
---
Let us know if you'll be attending via the FB event page!