The Call to Holiness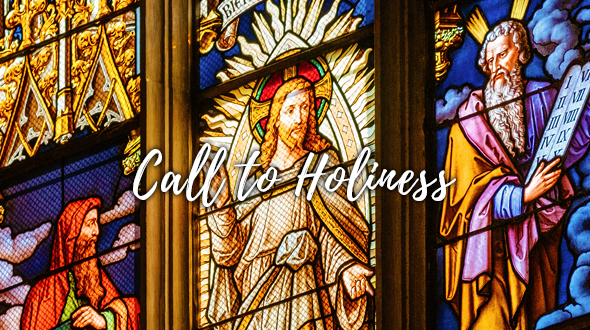 After weeks of fasting, reflecting and dying to sin, we rejoice in welcoming the Resurrection of Jesus on Easter Sunday and the following 50 days of Eastertide. For we are an Easter people who live a new life in Christ. 
Have we been sufficiently transformed after Lent to pursue holiness? Without this, we are unable to live out fully the coming Feast of the Ascension's message to preach the Gospel.
We all have the mandate to be holy because God is holy (Leviticus 11:44 and 1 Peter 1:16). To not pursue holiness in every aspect of our lives is to cop-out on being an authentic Catholic. This would be a great disservice not only on our faith but also the body of Christ.
Holiness can be understood in three separate senses: (1) the ontological, which relates to the nature of one's being, (2) the moral goodness present in human acts, and (3) the rituals where people, places or objects are consecrated exclusively to God (Cariveau, 2017).
In ontological holiness, we recognise that our baptism makes us holy. No matter what we do, this gift is irrevocable and sets us apart as Christians forever (Cariveau, 2017). Our holy nature is firstly rooted in God who is all holy, ipsum esse subsistens or all-powerful being. And it is fortified by partaking in the sacraments. In every Mass that we attend and confession that we make, we draw directly from the source of holiness.
What is harder is committing ourselves to perform morally good deeds on every occasion. We mistakenly believe that holiness is unattainable and therefore stop trying. We even grow comfortable with certain habitual sins. These include seemingly innocuous acts such as vain esteem for self, impatience, resentment, spiritual laziness, receiving the holy sacraments in a careless manner - distracted and devoid of necessary reverence and more (Estler, 2018). We commit these venial sins daily, thinking they do not matter in the larger scheme of things. But they in fact weaken our charity and when accumulated, bring us further away from God.
In this new season of Easter, let us ask Jesus for the courage to name and get rid of one habitual venial sin. It could be as simple as not snapping at our parents when they are being unreasonable or grumpy. When dirty water kept being thrown into the face of St Thérèse of Lisieux by another sister washing her handkerchiefs, she initially responded by wiping her face every time that happened. St Thérèse did this in the hope that the sister would notice and stop. Later, she taught herself to view this little inconvenience as a treasure and did not so much as flinch thereafter (St Thérèse, 1972). Her magnanimity towards the idiosyncrasies of her community members sounds impossible to emulate but it can be reached with unwavering commitment to holiness and relying always on the help of Jesus.
"You can see that I am a very little soul and I can offer God only very little things." - St Thérèse of Lisieux  
We also read about how different groups reflected and acted to engender positive change. 1,000 underprivileged families received a free lunch at the Feed the City event at City Square Mall on 13 Apr supported by TangoTab, a United States-based social impact mobile app (Neo, 2019). Some millennials also gathered together migrant workers to teach Singaporeans to play cricket under the group Vaangae Anna which means "come brother" in Tamil at a field near Boon Keng MRT station (Tee, 2019).
Only when Catholics start seriously trying to become holy can a positive transformation take place in Church - a change that starts from the inside out.
What changes are especially difficult for you? What is the root cause of this inability to change? What community support do you need on your journey?
This Easter, will you take the chance to pursue holiness?
---
Related Stories

---
Tiffany Tham is part of the Advocacy and Research Committee at Caritas Singapore. She hopes to spread the fragrance of the Eucharist wherever she goes and aspires to be as counter-cultural and compassionate as Jesus. If you need cheering up, join her one day in hugging trees, people, and animals.