Seeing Jesus at the Door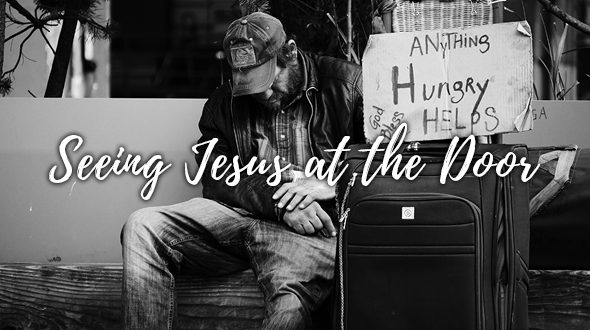 "An authentic faith – which is never comfortable or completely personal – always involves a deep desire to change the world, to transmit values, to leave this earth somehow better than we found it." (Evangelii Gaudium, 183)
"How can Catholics not know? It is so obvious there are poor and vulnerable persons in our midst." This statement by a fellow guest at a recent networking dinner intrigued me.
It assumes that knowing would inspire one to answer the call to give. But our current reality tells us otherwise. Already, we like to keep our Catholic identity a secret, revealing it only at selected hours (e.g., Sundays, Christmas, Easter, and days of obligations). We also struggle to let go of our endless pursuit of perfection, success, and material wealth, despite our knowledge of the poor.
So then, what will move us to action? I believe only Jesus himself will.
In one of his 2016 homilies at Casa Santa Marta, Pope Francis asserted that "true faith is seeing Jesus in the poor person who knocks at our door". A similar message can be found in Matthew 25:35-40: "For I was hungry and you gave me food, I was thirsty and you gave me drink, a stranger and you welcomed me, naked and you clothed me, ill and you cared for me, in prison and you visited me…As you did it to one of these, the least of my brethren, you did it to me".
Simply put, we must recognise that all of us, including the poor, are created in the divine image of Christ and therefore possess an inestimable dignity (cross reference to Catechism of the Catholic Church, 1700)
This was the case for Saint Teresa of Calcutta who saw Christ in every vulnerable and marginalised individual she encountered. She served, not simply because "it was the right thing to do", but because of her realisation that in serving others, she was serving Jesus himself. This was the source of her joy and overflowing compassion.
In these fortnight's articles, we see how the poor and vulnerable knocks at our door. They are present in various areas of our lives.
What is our response? Do we critique, condemn, or judge? Or, are we able to, through the eyes of faith, discern and see Jesus in them? Are we willing to share and help them?
While we think about it, let us implore the Lord for the grace of always seeing Jesus knocking at the doors of our hearts, filling us with the spirit of generosity and mercy.
---
Jacob Soo is the Membership Executive at Caritas Singapore, and serves at the Cathedral of the Good Shepherd. He finds joy in strong cups of black coffee, Catholic spirituality books, and conversations on the faith.