NEWS AND UPCOMING EVENTS (OCT/NOV)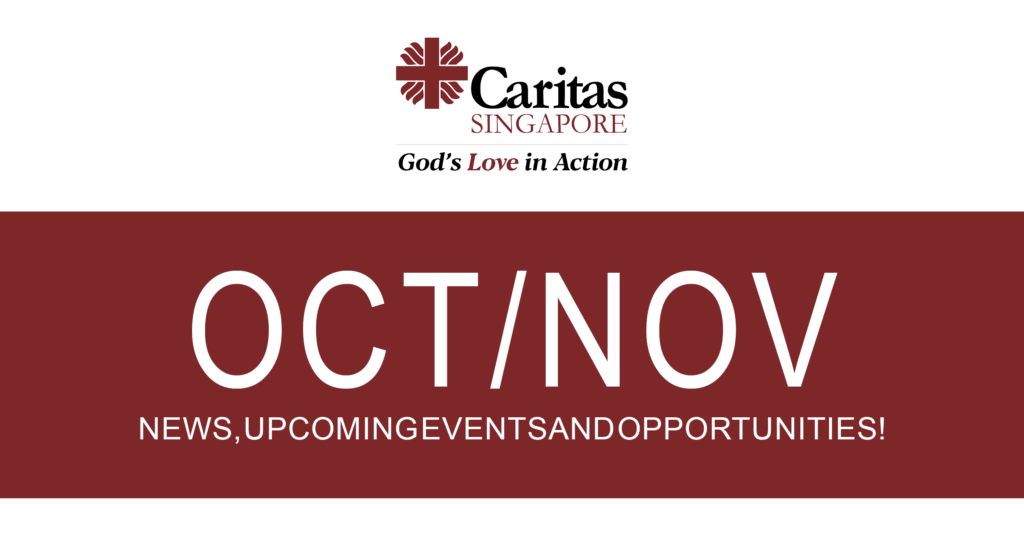 Dear Friends of Caritas Singapore,

Peace be with you.

A big thank you to all for making Ignitus! Social Mission with Love possible. If you have missed the event, you can now access the videos here.

On 5 September, the Catholic Church celebrates the Feast of Saint Teresa of Calcutta, who is more affectionately known as Mother Teresa. Saint Teresa of Calcutta lived a life totally dedicated to serving the poor amongst the poorest and is one of the patron saints of Caritas Internationalis.

As we remember her and continue to celebrate 200 years of Catholicism in Singapore, let us be reminded that everyone is called to do acts of charity to alleviate poverty and to foster stability and peace.

This month, we are excited to share with you the latest news and updates and we look forward to you joining us as we continue our work to reach out to the vulnerable among us.
CARITAS SINGAPORE NEWS
---
NEWS/ UPCOMING PROGRAMMES
WHAT'S ON
To ensure the safety of our service users, volunteers and staff, face-to-face programmes and services within the Caritas Singapore family are limited.
Note: Most programmes remain online.

Below are time-critical programmes and events for the month ahead:
---
RESOURCES
---
CAREER OPPORTUNITIES
In this time of uncertainty for many, especially for those seeking job opportunities, here are some positions available within the Caritas Singapore family. If you know someone who meets the job requirements, please do share this with them.
---
VOLUNTEERING OPPORTUNITIES
---
Please continue to stay keep safe, healthy and adhere to the safe management measures.

If you need help, or you know someone who needs help, please call our helpline: 8375 3125.
Take care!

#GodsLoveInAction #Catholic200SG