NEWS AND UPCOMING EVENTS (NOV/DEC)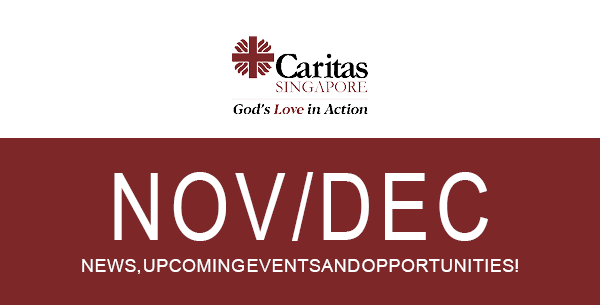 Dear Friends of Caritas Singapore,

Peace be with you.

During World Mission Sunday this year, we are reminded by Archbishop William Goh that "we are living in a world where people face much discouragement because of loss of hope."

May the following prayer extracted from the Collect of Mission Sunday Mass help us to live out our mission as God's people.

"Almighty ever-living God, increase our faith, hope and charity,
and make us love what you command, so that we may merit what you promise.
Through our Lord Jesus Christ, your Son, who lives and reigns with you
in the unity of the Holy Spirit, God, forever and ever."

Caritas Singapore News
---
NEWS/ UPCOMING PROGRAMMES
What's On?
To ensure the safety of our service users, volunteers and staff, face-to-face programmes and services within the Caritas Singapore family are limited.
Note: Most programmes remain online.

Below are time-critical programmes and events for the month ahead:
---
Resources
---
CAREER OPPORTUNITIES
In this time of uncertainty for many, especially for those seeking job opportunities, here are some positions available within the Caritas Singapore family. If you know someone who meets the job requirements, please do share this with them.
---
VOLUNTEERING OPPORTUNITIES
---
Please continue to stay keep safe, healthy and adhere to the safe management measures.

If you need help, or you know someone who needs help, please call our helpline: 8375 3125.
Take care!

#GodsLoveInAction #Catholic200SG