NEWS AND UPCOMING EVENTS (JUL/AUG)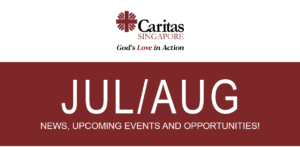 Dear Friends of Caritas Singapore,
Shalom! Wishing you and your family a blessed week. We are excited to share with you many upcoming programmes and activities. We look forward to your participation.
We are also pleased to share that with effect from 24 June 2021, the Catholic Architectural Guild (CAG) has officially joined Caritas Singapore as a Member Organisation (MO). Caritas Singapore family now has a total of 28 MOs.
CARITAS SINGAPORE EVENTS

As we celebrate 200 years of Catholicism in Singapore, Caritas Singapore and CHARIS representing the social mission of the Catholic Church both locally and overseas are co-organising a full-day programme entitled "Ignitus! Social Mission with Love" on 4 Sep 2021. #Catholic200SG
Prior to that, a series of "Ignitus! Social Mission with Love" micro events have been carefully curated by our member organisations. Join us for the upcoming micro events summarised below: 
---
WHAT'S ON?
To ensure the safety of our service users, volunteers and staff, face-to-face programmes and services within the Caritas Singapore family are limited. Note: Most programmes remain online.
Below are time-critical programmes and events for the month ahead:
---
RESOURCES
---
CAREER OPPORTUINITIES
In this time of uncertainty for many, especially for those seeking job opportunities, here are some positions available within the Caritas Singapore family. If you know someone who meets the job requirements, please do share this with them.
---
VOLUNTEER OPPORTUNITIES
---
Please continue to stay home, keep safe and healthy. If you need help, or you know someone who needs help, please call our helpline: 8375 3125.