NEWS AND UPCOMING EVENTS (APRIL/MAY)
Dear Friends of Caritas Singapore,
Blessed Eastertide! May the resurrection of our Lord Jesus Christ bring hope, joy, peace and love in your life.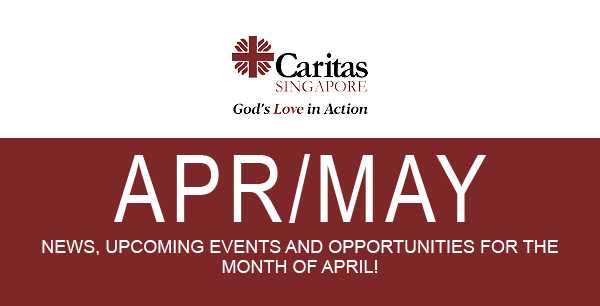 We are in the eighth week of Charities Week, and we thank you for all your contributions,
big or small.
To date, we have raised about $5 million of our $7.5 million target and we still have a long way to go.
Your donations will help our 27 charities and organisations to serve and empower those in need.
Charities Week will close in about two weeks time so please continue to send in your donations.
Every dollar counts!

CARITAS SINGAPORE EVENTS
---
WHAT'S ON
To ensure the safety of our service users, volunteers and staff, face-to-face programmes and services within the Caritas Singapore family are limited. Note: Most programmes remain online.
Click on the link below to access resources, register for a programme, and refer someone you know to services and programmes offered by the Caritas Singapore family.
---
RESOURCES
---
CAREER OPPORTUNITIES
In this time of uncertainty for many, especially for those seeking job opportunities, here are some positions available within the Caritas Singapore family. If you know someone who meets the job requirements, please do share this with them.
---
VOLUNTEER OPPORTUNITIES
---
As we celebrate 200 years of Catholicism in Singapore, we pray that God continues to call each of us to serve our brothers and sisters in need through our God-given gifts. Please continue to keep us in your prayers
If you need help, or you know someone who needs help, please call our helpline: 8375 3125. We are here for you.
#GodsLoveInAction #Catholic200SG
Click here to see the previous newsletters.