Caritas Singapore is all about people. Through our programmes, we seek to serve the community and we welcome you to join us on this journey.
Caritas Singapore is the official social and community arm of the Catholic Church in Singapore, and the umbrella body for 25 Catholic charities and organisations whose work has touched the lives of many regardless of race or religion. We are also a member of Caritas Internationalis, a global confederation of over 160 humanitarian organisations.
The name Caritas means charity in Latin, and reminds us to live out our faith through social works.
Our logo
The Caritas logo comprises three elements – the Caritas Cross, the Caritas name, and the region of Singapore. The flaming Caritas Cross symbolises Christ's burning love for His people. This expression forms the core of the work done by Caritas Singapore and our member organisations.
Our Caritas Singapore family
The organisations under the umbrella of Caritas Singapore support a wide array of causes such as the poor, children, youth at risk, families, prisoners, elderly, sick, people with life-limiting illnesses, people with HIV/AIDS, those with disabilities, migrant workers, people with legal and medical needs.
There are more than 70 programmes run by these organisations aimed at helping the people in need. Programmes and services include soup kitchen, financial assistance, residential care, shelters, befriending, counselling, palliative care, student care, skills training etc. While our main focus remains in Singapore, some members of the Caritas family look into humanitarian needs overseas.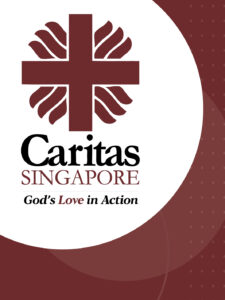 Download a copy of our Caritas brochure here!
Mission
To collaborate and provide leadership within the Catholic community in Singapore in fulfilling the Catholic Church's social mission especially for the most vulnerable in society.
Vision
To be the visible sign of God's love for humanity demonstrated by Catholics living the principles and values of the Catholic Social Teaching (CST).
Hear more about the Catholic Social Teaching and how you can be involved on CatholicSG Radio's "Kopi Talk" podcast featuring Msgr John-Paul Tan, OFM.
Hear from our Executive Director, Ms Christine Wong, as she shares more about how the work that Caritas Singapore does truly reveals God's love in action, and about Agape Village on CatholicSG Radio's "Kopi Talk" podcast.
Corporate Information
Caritas Singapore Community Council Limited (Caritas Singapore) is a company limited by guarantee and a registered charity.
Registration No : 200613504D (ACRA)
Charity No : UEN: 200613504D
Company Secretary : Vivienne Lim
The Caritas Singapore Agape Fund is a trust with Institution of a Public Character (IPC) status and a registered charity.
Charity No : UEN: T06CC2001K
Company Secretary : Vivienne Lim
Legal Counsel : Genesis Law Corporation Advocates & Solicitors
Auditors : Ernst & Young
One Raffles Quay
North Tower, Level 18
Singapore 048583
Bankers : DBS Bank Ltd
12 Marina Boulevard, Level 3
MBFC Tower 3
Singapore 018982
Registered Office : Caritas Singapore Community Council
7A Lorong 8 Toa Payoh
#04-01 Agape Village
Singapore 319264
Telephone : +65 6338 3448
Fax : +65 6337 7101
Website : www.caritas-singapore.org