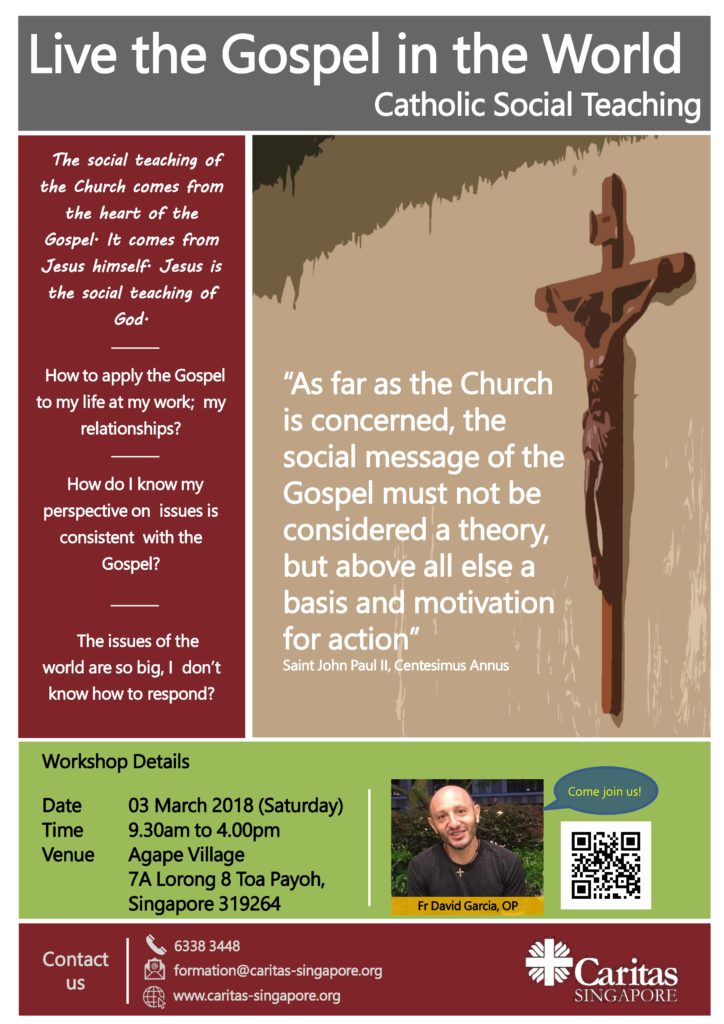 By Rev Fr David Garcia, OP
Come join us for a time of learning, reflection and sharing!
The social teaching of the Church comes from the heart of the Gospel. It comes from Jesus himself. Jesus is the social teaching of God.
Catholic Social Teaching is based on the belief that God has a plan for creation, a plan to build his kingdom of of peace, love and justice. The teaching touches upon many different aspects of life, from the family to international development, how we think of those who are homeless to how we care for the environment, and from how we shop and consume to the rights of workers and the dignity of work.
This workshop introduces the social teachings to participants and allows them the time to reflect and share on how the understanding and application of these teachings can strengthen their faith and put their faith in action in their daily lives.
Date: 3 March 2018 (Sat)
Time: 9.30 am to 4.00 pm
Venue: Agape Village, 7A Lorong 8 Toa Payoh, Singapore 319264
Cost: Free. Love offering welcomed on day of workshop.
Please register here.
For more information and queries, please email [email protected] or call us at 6338 3448 (office hours).