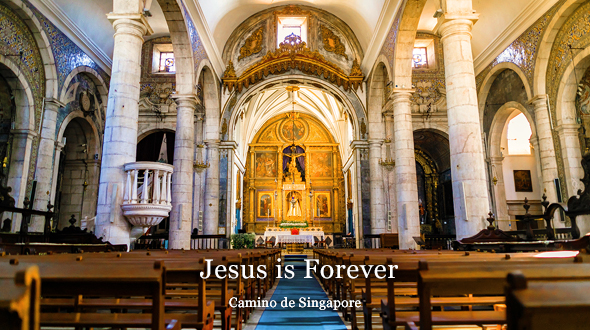 As we typically reach the end of another year, most of us go into reflection mode – reviewing the past year, the highs and lows, the happiness and sorrows, the lessons learnt which led us to formulate resolutions or commitments for 2020.
Likewise, I found myself sitting in Church after the final lunchtime Mass for 2019, looking at the Prologue to the Gospel of John (John 1:1-18) and reflecting.
What struck me was the magnificent phrase: "And the Word became flesh and lived among us." The phrase "lived among us" in Greek (σκηνόω, skénoó) when transliterated is "tabernacled among us" or "pitched his tent among us." What the evangelist is telling me is that here and now, in the flesh, God has established his tabernacle among us – Jesus is here with me.
But that is not all. The prologue also reveals the importance of another person – John the Baptist whose cooperative role in being a witness to Jesus contributed to God's grand scheme.
He was a compassionate, loyal, faithful, humble, courageous and fearless disciple (cf. Luke 7:28) as seen by his life of poverty and simplicity, utter humility (cf. John 1:27, 3:29-30), and his courage to call out the scandals and evils of his time (cf. Matthew 3:7, Luke 3:19).
What about me? In 2019, did I live a life that embodied and is witness to Jesus' presence – one that is compassionate, loyal, faithful, humble, courageous and fearless? Our local news is replete with inspiring examples of individuals possessing such virtues and traits.
As I look back at the significant events of the past year, I can see how Jesus shaped and strengthened me for the future. I do not know what the new year will hold for me, my family, loved ones, and the world. But I resolve to begin a new life, abandoning myself and offering all my aspirations and affections to Jesus, knowing that in all my weakness and sinfulness, He will continue to be with me.
Our pilgrim journey does not end with the passing of a calendar year. Jesus is forever. Let us resolve to live a different life; an eternal life closer to him. Perhaps then we will be courageous enough to pray the following non traditional blessing.
A Non-traditional Blessing by Sister Ruth Marlene Fox
"May God bless you with discomfort,
At easy answers, half-truths,
And superficial relationships
So that you may live
Deep within your heart.
May God bless you with anger
At injustice, oppression,
And exploitation of people,
So that you may work for
Justice, freedom and peace.
May God bless you with tears,
To shed for those who suffer pain,
Rejection, hunger and war,
So that you may reach out your hand
To comfort them and
To turn their pain to joy.
May God bless us with just enough foolishness
to believe that we can make a difference in the world,
so that we can do what others claim cannot be done."
Related Stories
---
Jacob Soo is the Formation and Membership Executive at Caritas Singapore, and serves at the Cathedral of the Good Shepherd. He finds joy in strong cups of black coffee, Catholic spirituality books, and conversations on the faith.