Jesuit Refugee Service (JRS)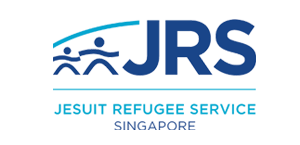 Jesuit Refugee Service is an international Catholic organisation whose mission is to accompany, serve and advocate for refugees and forcibly displaced people. JRS Singapore works with parishes to raise awareness about the plight of refugees and supports the work of other JRS organisations in the Asia Pacific and South Asian regions.
PROGRAMMES AND ACTIVITIES
JRS Singapore supports the work of JRS International and is made up of volunteers who seek to serve refugees all over the world, especially in Asia. JRS' priorities are in the areas of education, skills training, pastoral and health care, and advocacy for peace and reconciliation.
JRS Singapore has given financial aid, sent volunteers on visits or for short-term voluntary work, and supported projects managed by the local JRS organizations in Thailand, Indonesia, Sri Lanka, India, Nepal and Africa.
INFORMATION
Jesuit Refugee Service (JRS)
7A Lorong 8, Toa Payoh
#04-01, Agape Village
Singapore 319264
Website: www.jrssg.org
Facebook: www.facebook.com/JRSSingapore
Contact Person: Karen Goh
Email : [email protected]