His Will is Love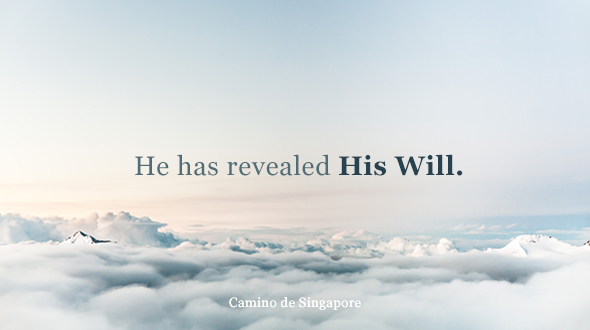 A month ago, I made a major decision that changed the course of my life. A deep sense of peace filled my heart immediately after, as though a heavy burden had been lifted. But, like all hard choices, pain and heartache followed close.
And so, for the first few weeks, I questioned my decision. Each time I'm visited by pain, I would think, God speaks to us through emotions, surely He is trying to tell me that I made the wrong call? I was on a constant lookout for signs that my decision was done according to His Will. Soon, everything began to look like "signs". A song on the radio. A homily given by a priest. And even, a quote on Facebook. The problem was, all these "signs" were contradictory.  
"So which is it? What is Your Will, Lord?" I demanded in my conversations with Him.
Until a close friend reminded me that God has already revealed His Will.
He has told you, O man, what is good;
and what does the Lord require of you
but to do justice, and to love kindness,
and to walk humbly with your God.

(Micah 6:8)
My dear brothers and sisters in Christ, I'm sure you know this too. Often, when we ask for clarity or direction, what we really mean is, "God, I want you to handhold me every step of the way."
But God has already revealed how He wants us to live in scripture.
He wants us to love and worship Him wholeheartedly (Matthew 22:37). He wants us to speak up for the voiceless, the vulnerable, and the marginalised (Matthew 25:35-40). He wants us to love each other without measure, including those whom we find disagreeable (Luke 6:27-29).
Mr Lee Cho Poon, an 83-year-old retiree, is a good example of such selfless love. He opened his rental flat to three strangers and cared for their needs. When offers of donations and assistance poured in, Mr Lee humbly responded, "He's like my dear brother… as long as I can continue to eat with him, that's enough. I don't want anything else, I don't need anything else…Please tell readers that I'm very, very grateful, but that they should give the money to people who are needier than I am."
We know His Will. So, let's live with the clarity that He has already spoken in and continue walking forward in love.
---
Related Stories
---
Jorain Ng is part of the Advocacy and Research team at Caritas Singapore. She thinks she should have been born in the groovy 80s and can often be found listening to Abba and Bee Gees songs.