He Wants Us To Thrive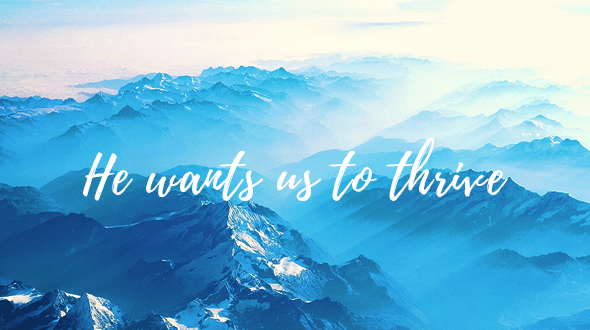 In their hearts humans plan their course, but the LORD establishes their steps. (Proverbs 16:9)
I felt Jesus.
I felt Him walking with me during my trek in the Himalayas last month. I felt His guiding hands, His gentle touch on my hair. I wish that others who need Him as much as I do, would feel His presence and His comfort too. And even more, feel His love.

It was an extraordinary feeling. Because I knew He was right next to me, I was able to let go of my fears and face whatever was in front of me. Sure enough, whenever I lost my footing while walking over rocks, snow and ice, "angels" came forward to hold me securely.

So what if I have a university degree? So what if I could lead a successful work team? High up in the mountain, everything I have and everything I accomplished back home were irrelevant. I turned to Him and His "angels".

Likewise, someone who just lost a loved one and feels socially isolated, is diagnosed with dementia, or had a stroke faces a new reality, and calls for "angels" of his own (Teo, 2019; Tai, 2019; Choo, 2019). These "angels" are his loved ones, friends, and professionals who genuinely care for him so he can adapt to the "new terrain" and live fruitfully.

Yes… Our precious, yet transient earthly life is meant to be lived to the fullest. We have only one chance at this. Our decision to do so would reflect our moral compass, spiritual maturity, and relationship with God. He gives us "angels" to help us on this journey.

We will all leave this beautiful earth one day.

Before we do, let's live ... not just survive, but thrive.
---
Related Stories
---
Anita Sebastian is part of the Communication team at Caritas Singapore. She encourages everyone to focus on joy and positivity. She is now humming Latin hymns from deep in her memory.