He Calms Our Storms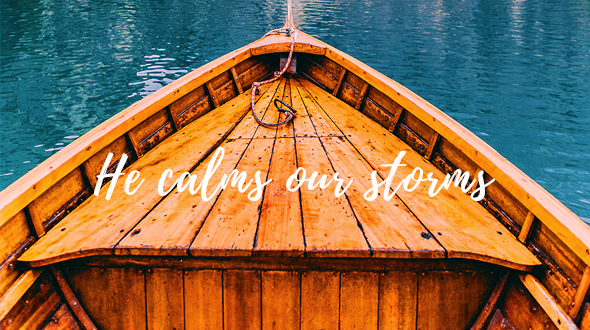 No one is immune to feelings of despair and hopelessness.
24-year-old Benjamin (not his real name) fell into depression and has been spending his days at home for the past 1 ½ years after being rejected from job applications and dismissed from previous internships. He is among a growing group of youths who are not in education, employment or training (NEET). Some of them develop depressive symptoms if their situation remains unchanged for a prolonged period of time.
Equally alarming are the survey results of an international research agency YouGov. Their survey of 1,095 Singaporeans found that one in 3 experienced suicidal thoughts and engaged in self-harm.

These news reminded me of an opening paragraph in Dante Alighieri's Inferno - The Dark Forest:
Midway upon the journey of our life
I found myself within a forest dark,
For the straightforward pathway had been lost.
Some remedy their situation by seeking help from their friends, family and professionals*. Others change their environment or how they do things. And still others, the feeling of hopelessness overwhelms them. They go deeper into the "forest".

The following gospel passage shows us a way out:
Suddenly a violent storm came up on the sea, so that the boat was being swamped by waves; but he was asleep. They came and woke him, saying, "Lord, save us! We are perishing!" He said to them, "Why are you terrified, O you of little faith?" Then he got up, rebuked the winds and the sea, and there was great calm. (Matthew 8:24-26)
This is one of my favourite scenes in the Bible. That of Jesus sleeping on a boat being tossed around by the turbulent storm.
When everything seems to be conspiring to put me down, I like to imagine curling up beside Jesus and striking up a conversation with Him on the boat.
What about you? What do you do in the midst of storms?
* If you are experiencing depressive symptoms, please seek professional help. Clarity Singapore is a Catholic mental health charity that provides counselling services, among others.
---
Related Stories
---
Manolo L. Fetalvero is a husband, father of three boys, and the IT Manager of Caritas Singapore. Raised in a Catholic family with five siblings who taught him much about living the faith at home, he is passionate about sharing his experience with the community. He is a parishioner at the Church of Our Lady Star of the Sea, and serves in the RCIA ministry.