Fully Alive in God's Love
A social mission event for young adults (aged 18 to 35 years) to discern their own personal mission and get to know more about what our Church is doing to help those in need.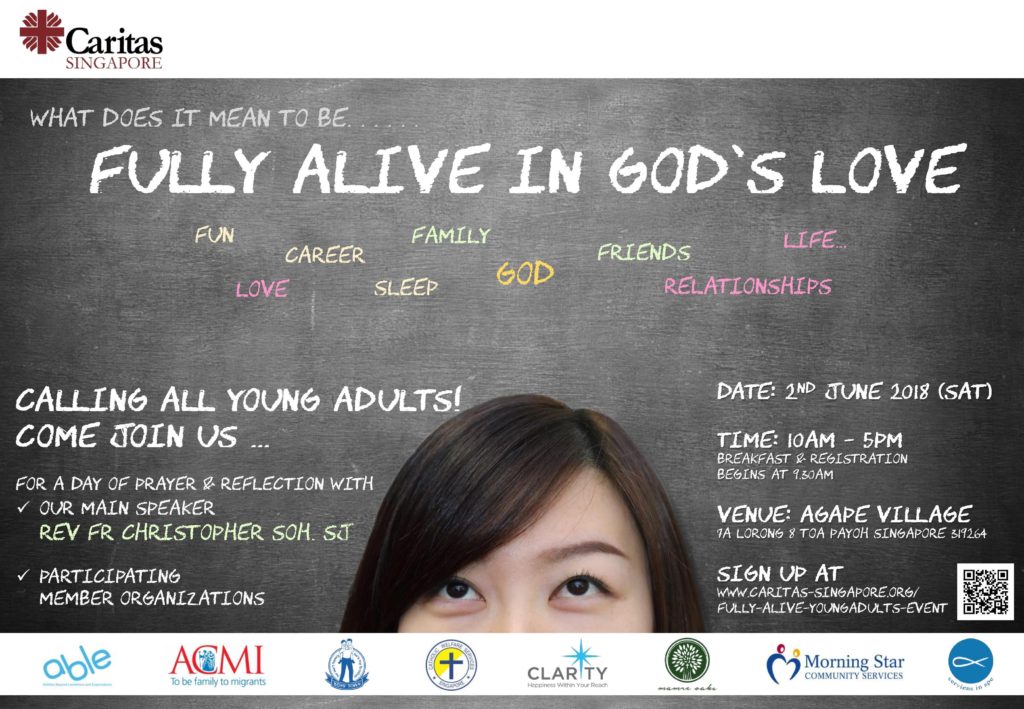 Fully Alive in God's Love Poster
Date: 2 June 2018 (Sat)
Time: 10a.m. to 5.00p.m.
Venue: Agape Village, 7A Lorong 8 Toa Payoh, Singapore 319264
Main Speaker: Rev Fr Christopher Soh, S.J.
Participating Member Organisations:
– Abilities Beyond Limitations and Expectations (ABLE)
– Archdiocesan Commission for the Pastoral Care of Migrants and Itinerant People (ACMI)
– Boys' Town
– Catholic Welfare Services
– Clarity Singapore
– Mamre Oaks
– Morning Star Community Services
– Society of St Vincent de Paul (SSVP)
The programme for this event includes content input sessions by Rev Fr Christopher Soh, and sharings by participating member organisations.
Cost: Free (A love offering contribution on the event day will be greatly appreciated)
To Register for this event, please click HERE.
For any queries on this event, please feel free to contact us at [email protected]