Faith and Reason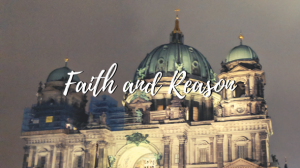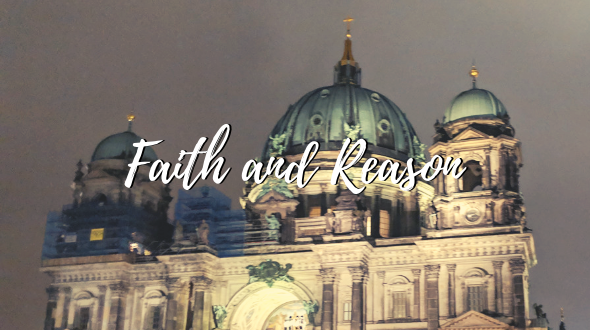 One of the most remarkable aspects of the Catholic faith is how solidly it is grounded on reason. For "In the beginning was the λόγος (Greek for the Word)", a line by the Evangelist St John. God acts is written as σὺν λόγω in Greek, with logos. Logos means both reason and word; this reason is creative and capable of conveying itself as reason. Not acting in accordance with reason is contrary to God's nature (Pope Benedict XVI, Regensburg lecture, 12 Sep 2016).
Pope Benedict also pointed out that the focus should not be on reason alone but rēcta ratiō ("right reason"). A right reason must include the discussion of God for it is the core theme of the marvellous thinkers and civilisations in history and orientates man to goodness. In today's pervasive relativism, where people claim that there is no such thing as absolute knowledge, truths and morality in relation to culture, history or society, we run the risk of casting religion into a corner, assuming that anything to do with faith should be dismissed as contrary to reason (Day, 2016). The truth is "faith and reason are like two wings on which the human spirit rises to the contemplation of truth" (Pope St John Paul, Fides et Ratio). One cannot do without the other.
When he was the head of the Congregation for the Doctrine of the Faith, Joseph Ratzinger called for people to rise to the enormous task of reasoning and applying economic laws to the service of the common good of people:
"A morality that believes itself able to dispense with the technical knowledge of economic laws is not morality but moralism. As such it is the antithesis of morality. A scientific approach that believes itself capable of managing without an ethos misunderstands the reality of man. Therefore, it is not scientific. Today we need a maximum of specialized economic understanding, but also a maximum of ethos so that specialized economic understanding may enter the service of the right goals." (Ratzinger J.C, Church and Economy: Responsibility for the future of the world economy, 1986)
The use of reason extends to our work with the disadvantaged. Applying Catholic Social Teaching requires discernment of the discoveries and insights of economics and science appropriately with the principles underpinning human dignity, in line with natural moral law. We are not to get emotional in our defence of those who suffer but should consider the importance of economic freedom, trade, property rights, a strong rule of law, and entrepreneurship and education for eliminating poverty (Richards, 2018).
How is this balance struck and executed in everyday life? This could mean being the unpopular and uncommon voice in the crowd, choosing to live a life consistent with what you preach, practising the Church's care and love for the poor, and examining your daily life habits more objectively. Consider the sacrifices necessary to do without a domestic helper at home. Think about what it means as an employer to pay workers a fair wage while cutting costs through the use of technology.
In the case of social service organisations, who face the oxymoron of reducing costs while meeting the expanding needs of the poor, it is imperative that they rise to the challenge of using faith and reason in operating as efficiently as a business, yet treating others with the compassion of saints.
The Catholic Agency for Overseas Development (CAFOD), a UK-based humanitarian organisation, commits to ending successful programmes to move donations to new causes. For instance, they stopped a campaign in Sebeya, a village located in arid North Ethiopia, after successfully giving them water access and moved on to concentrate on fund-raising efforts for Colombia, South America. To rededicate resources to where it is needed most, and have humility to admit and rectify mistakes in resource allocation is something that all organisations should periodically do if they have not already done so. This would improve accountability to stakeholders and build trust to continue its mission.
We celebrate the use of reason in recent changes to the laws in Singapore that further promote the dignity of the human person. Amendments to the Misuse of Drugs Act emphasise rehabilitation for drug addicts, based on evidence that addicts who can admit their addiction are one step closer to change for the better. In the area of domestic helpers, we should read critically the report by Humanitarian Organisation for Migration Economics (Home) and Hong Kong-based anti-trafficking group Liberty Shared, particularly their claims that domestic workers here suffer from "forced labour". The report had also made recommendations to improve working conditions of these domestic helpers which are probably challenging to do on a system-level but practicable on an individual level. For example, employers can choose to shorten their helpers' working hours and allow them to use that time to improve other skills.
Let us take the opportunity to exercise our right reason this week in living out our faith.
---
Related Stories
---
Tiffany Tham is part of the Advocacy and Research Committee at Caritas Singapore. She hopes to spread the fragrance of the Eucharist wherever she goes and aspires to be as counter-cultural and compassionate as Jesus. If you need cheering up, join her one day in hugging trees, people, and animals.