Self-Worth Workshop (3 of 4)
August 15, 2015 @ 11:00 am

-

1:00 pm

$10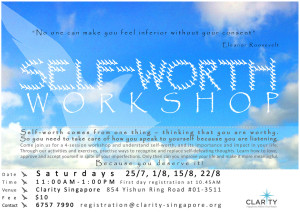 "No one can make you feel inferior without your consent."
– Eleanor Roosevelt
Self-worth comes from one thing – thinking that you are worthy.
So you need to take care of how you speak to yourself because you are listening.
Come join us for a 4-session workshop and understand self-worth, and its importance and  impact in your life.
Through our activities and exercises, practise ways to recognise and replace self-defeating thoughts. Learn how to love, approve and accept yourself in spite of your imperfections.
Only then can you improve your life and make it more meaningful.
Because you deserve it!
A series of 4 workshops happening on 25th July,  1st August, 15th August and 22nd August, from 11am to 1pm. Come early at 10.45am to register!