Personal Moral Compass 2015 – Module 4: Ethics of Love, Sex and Marriage (Start date)
July 14, 2015 @ 7:30 pm

-

9:30 pm

$60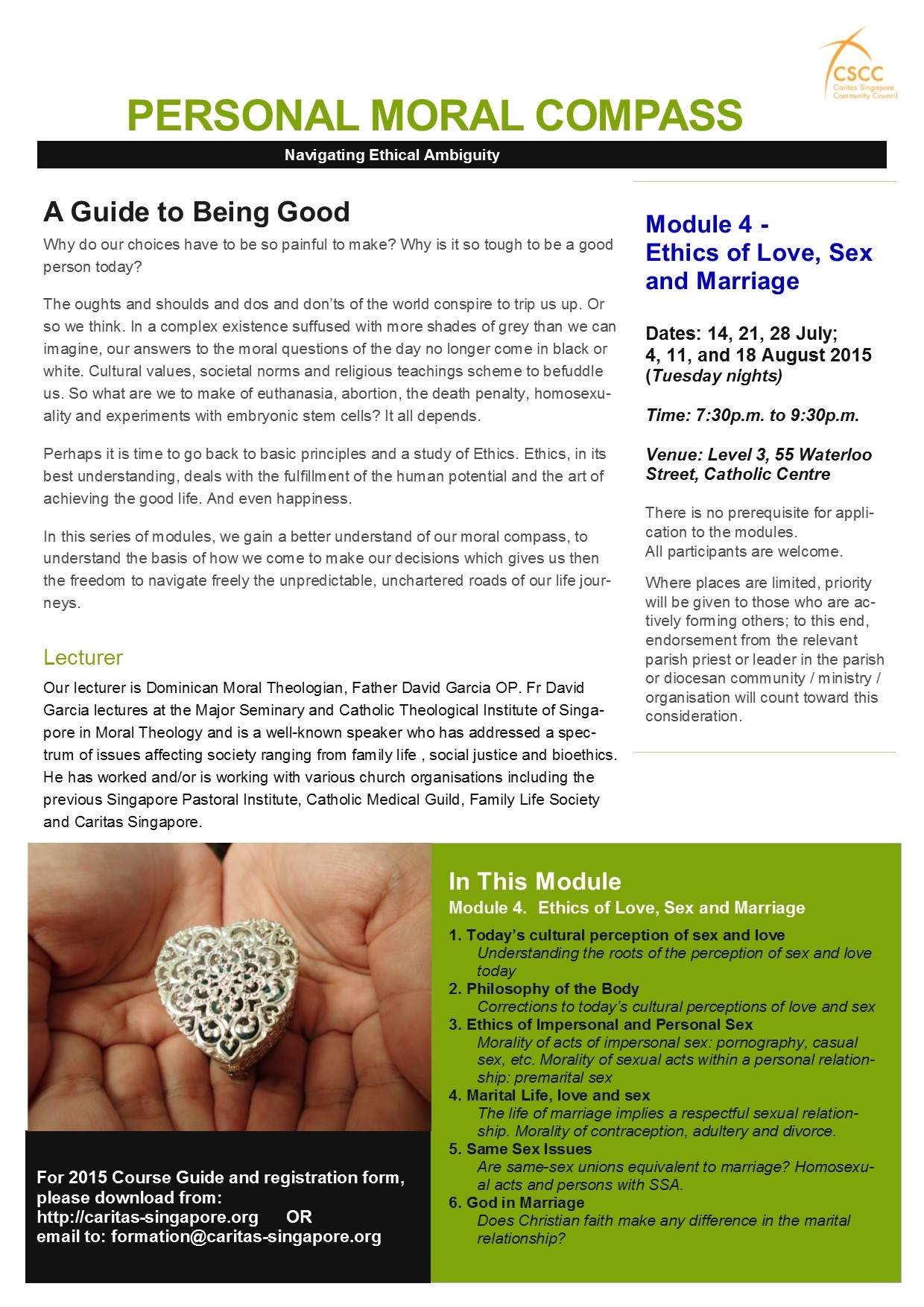 By Fr David Garcia, OP
This is the fourth module of the one-year-long systematic course in Moral Theology. This is a course for all Catholics and all people of goodwill interested in formation in the foundations of Ethics and Moral Theology. It is also recommended for those involved in guiding and forming others and those involved in related work or ministry.
Outline of Module 4. Ethics of Love, Sex and Marriage

Dates: 14, 21, 28 July; 4, 11, 18 August 2015
1. Today's cultural perception of sex and love
– Understanding the roots of the perception of sex and love today
2. Philosophy of the Body
– Corrections to today's cultural perceptions of love and sex
3. Ethics of Impersonal and Personal Sex
   – Morality of acts of impersonal sex: pornography, casual sex, etc.
   – Morality of sexual acts within a personal relationship: premarital sex
4. Marital Life, love and sex
   – The life of marriage implies a respectful sexual relationship.
   – Morality of contraception, adultery and divorce.
5. Same Sex Issues
   – Are same-sex unions equivalent to marriage? Homosexual acts and persons with SSA.
6. God in Marriage
  – Does Christian faith make any difference in the marital relationship?
All classes are held on Tuesday nights. Please refer to the course guide for the specific dates.
Time: 7:30p.m. to 9:30p.m.
Venue: Level 3, 55 Waterloo Street, Catholic Centre
Contribution: $60 per module
For more information and to register, interested applicants could refer to the Personal Moral Compass Course Guide 2015  and Personal Moral Compass Course – registration form for 2015 M3to6 or email to [email protected]