Humanitarian Forum & Fair 2017 (Registration Closed)
June 10, 2017 @ 1:00 pm

-

8:30 pm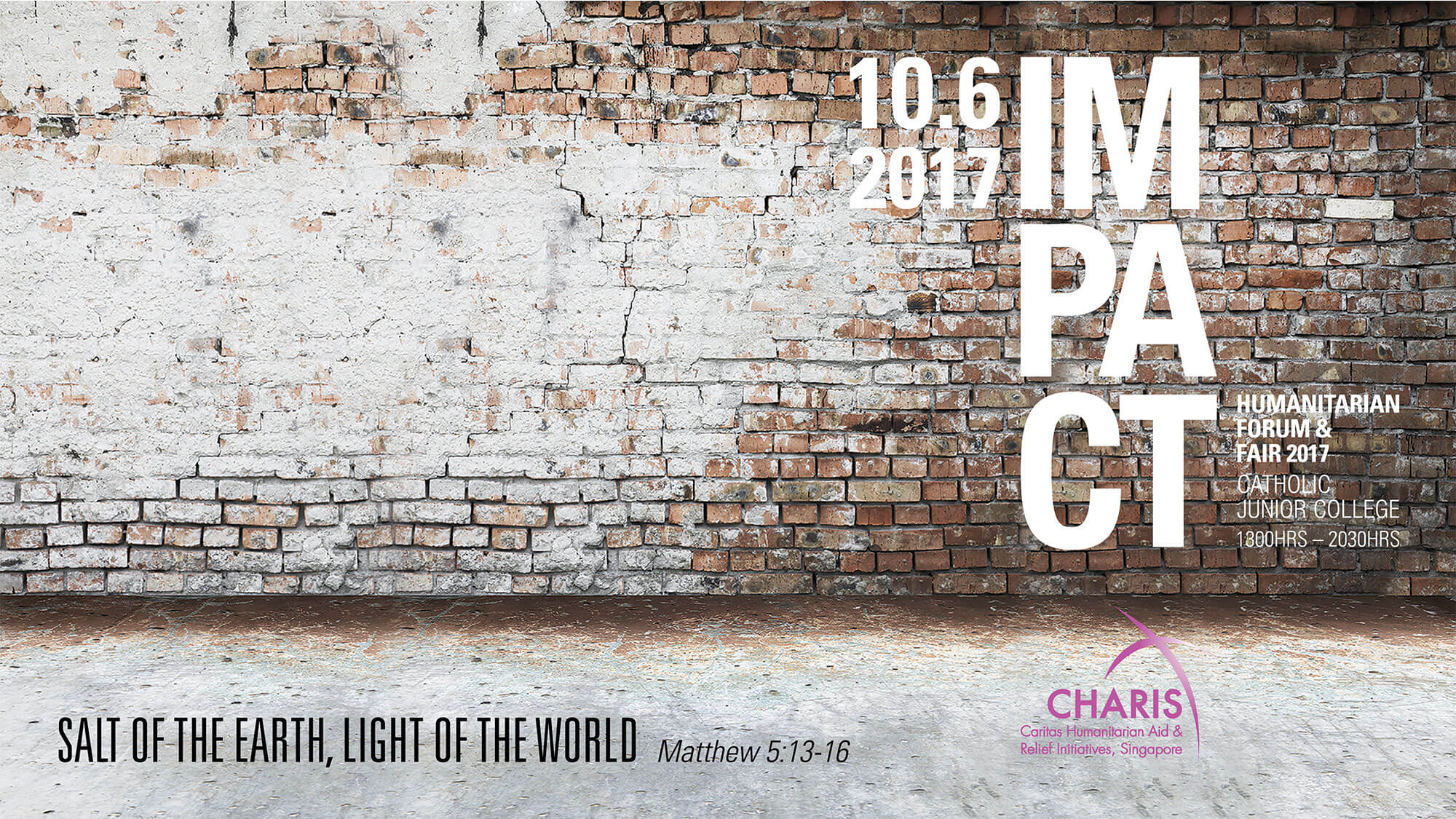 Humanitarian Forum & Fair 2017 (Registration Closed)
Date: 10 June 2017
Time: 1.00pm to 8.30pm
Venue: Catholic Junior College
The Humanitarian Forum & Fair is a biennial event organised by CHARIS which seeks to encourage dialogue, provide inspiration and connect the community with Catholic organisations that manage humanitarian initiatives in the region.
IMPACT
Salt of the Earth, Light of the World"…" (Matthew 5:13-16)
This year's theme is Impact. But why Impact?
What the forum aims to do is provide a better understanding of the common issues impacting the lives of millions of marginalised people across the region.
Over the past 30 years, rising sea levels and typhoons have destroyed the homes of fishermen, those built by their forefathers – in the Philippines, an average of 26 typhoons sweep through 7,177 islands annually. From Cebu and the Visayas region, to mainland Luzon, to the little known 17-island Romblon archipelago, and of late, even far south Mindanao. This has forced tens of thousands of people to seek shelter at evacuation centres every year, many of whom have no homes to return to. In countries like Myanmar, India, and Sri Lanka, those living in abject poverty find themselves displaced time and again due to monsoons, flooding, and severe drought. In Nepal, post-earthquake reconstruction work has unfortunately made insignificant inroads in improving those provinces devastated by disaster, with 10 million people still at risk of living below the poverty line. The indigenous people of India, the Philippines, Myanmar, Borneo, the Riau Archipelago and Irian Jaya continue to live in the margins of civil society, with little access to roads, schools and hospitals.The turbulent years in Cambodia, Vietnam and Timor Leste, experienced some 50 years ago may well be over, but the traumas of conflict have left an indelible scar on the culture of the lands. Education remains out of the reach of millions of poor people. Access to proper sanitation, clean water, medical and dental care, and electricity continue to be a challenge across the region.
Truly, for you and me, it is hard to imagine life without basic creature comforts.
This year's HFF invites you to come and pledge your Impact, one that will bring positive flavour to the earth and light to the world. Know that you can make a difference.
Make an IMPACT now, make it at HFF 2017
Sign up now – http://bit.ly/2jduMTK
Visit the HFF Web – http://www.charis-hff.org/
Save The Date – http://bit.ly/2k2ee5G
Email: [email protected]