CHARIS-acts29 Mission Friendship
August 26, 2016

-

September 1, 2016

$670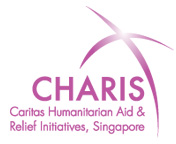 Registration for CHARIS-acts29 Mission Friendship is now open!
BIO-SAND WATER FILTRATION SYSTEM BUILDING MISSION – ROMBLON, PHILIPPINES
Date | October 23 – 30, 2016
Location | Romblon, Philippines
Route | Singapore – Manila Airport (approx. 4 hr)
                Manila Airport to Batangas Port (approx. 3hr)
                Batangas Port – Romblon (Overnight Ferry approx. 8 hr)             
Stay | Guest House
Price | S$670 per pax
Inclusive of airfare and taxes, accommodation, meals, ground transport and travel insurance in Philippines.
No. of participants | 9 pax
Pre-trip preparation | It is compulsory for participants to attend all pre-trip preparation sessions. 
1st Briefing – Thursday, 29 September, 7pm
– Introduction of CHARIS and acts29
– Purpose and objective of a mission trip
– Information on accommodation, safety & security situation and work expectation
– Collection of Mission fees
2nd Briefing – Wednesday, 12 October, 7pm
– The Catholic Social Teachings
– Team bonding & introduction of key roles and responsibilities
– Mission itinerary & packing list
– First aid knowledge share
Bio-sand water filtration system training – Saturday, 15 October, 9am
– Understanding how the bio-sand water filtration system works
– Practical session on how to build the system
Final Briefing and Formation Session – Thursday, 20 October, 7pm
– What is Christian Charity?
– Run through finalised Mission itinerary
– Briefing on departure & flight details
– Mission Formation Session
REGISTRATION CLOSES | 28 September 2016
Mission Background
acts29 started in 2002 with a group of Singaporean youths who went to the Payatas Dumpsite of Quezon City, Philippines. It has grown to be a community of Singaporeans and Filipinos committed to simplicity, solidarity and engaged in a mission of love. Today acts29 builds communities and provides direct services to the areas they serve in and forms youths to transform communities. acts29's formation and volunteer houses are based in sub-urban, Montalban Rizal, Philippines.
In 2015, acts29 partnered up with the diocese of Romblon made of 15 islands. In recent years, rising sea levels and annual typhoons have destroyed many homes of the islanders.
acts29 is moving families living on the coastline by building houses inland,  further away from the sea. The locals across the islands of the Romblon archipelago lack safe drinking water and families and have to head to the parishes to access water from the churches' wells every day. The locals currently have to boil their water before consumption. Thus, acts29 has partnered with CHARIS in order to implement the idea of bio-sand water filtration and to train the local community and acts29 on the construction of the system.
The bio-sand water filtration system, is a cost effective way of removing bacteria and parasites in water. It is easy to build, use and maintain. The system uses the slow sand filter method, which filters out pathogens and suspended solids.
Come end-October 2016, a CHARIS-acts29 team will be deployed to Romblon to give training, capacity build and help build the bio-sand water filtration system with the local community. If you are interested to learn the system and build it do join us! Come experience faith in action, joy of mission work, and fellowship with team members and the local community.
Note:
THE AGE REQUIREMENT
Participants must be 21 years and above as CHARIS mission trips are usually to post-disaster sites, we appreciate your kind understanding in our age requirement.
If you are looking to embark on a youth- or family-focused mission trip, you might like to consider joining mission trips organised by our affiliates namely ACTS, iCARE, Epiphany, M3 and Project Micah, etc. For more details: www.charis-singapore.org/index.php/upcoming-missions
You may contact the various CHARIS affiliates directly or register for their mission trips. Their contact details can be found at www.charis-singapore.org/index.php/affiliates
DEPARTURE AND RETURN
For logistical reasons and to promote solidarity, team spirit and to ensure safety of all volunteers, CHARIS will not be granting any individual extension to the trip dates stipulated in this email. All volunteers are encouraged to journey together as a mission team between Singapore and the host country.
REFUND
Please ensure that you have made the necessary arrangements in order to embark on this mission trip. There will be no refunds after the above stipulated deadline when air tickets have already been purchased.
For more information and registration, please contact Victoria Lim at 6337-4119 or email [email protected] or [email protected]
To find out more about CHARIS and the work we do, please visit www.charis-singapore.org