Legacy Giving
Many of us have causes that we donate to throughout our lifetime, whether regularly or casually. Legacy giving is a little different. Legacy gifts answer the question, "How can I help when I'm not here?"
Caritas Singapore is the umbrella body for 28 Catholic charities and organisations. We assess the needs and provide grants to these charities to enable them to reach out to the vulnerable and marginalised. Your gift will touch the lives of many regardless of race or religion. By making bequests and other "planned gifts" to Caritas Singapore, you will help sustain our Catholic charities and organisations to make an important difference in our community.
Our causes cover: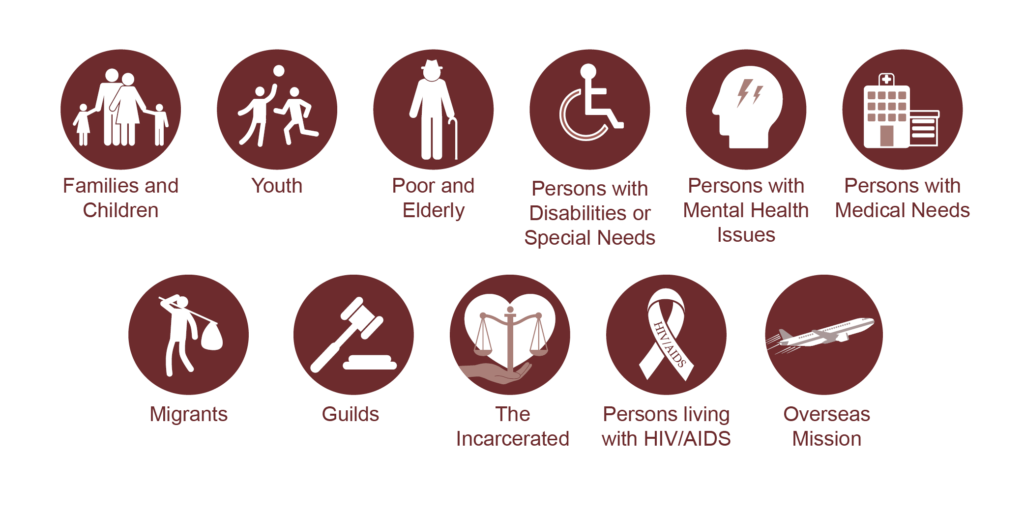 ---
Different forms of a legacy gift
Leaving a legacy gift to Caritas Singapore through a bequest in your will* can be in the form of:
Cash
CPF savings* (CPF savings can only be distributed through a CPF nomination)
Insurance policies
Marketable securities
Marketable assets
Proceeds from the sales of assets


---
Ways to go about leaving a legacy gift
To understand the various causes that Caritas Singapore serves through its member organisations and explore how you could leave a legacy with the vulnerable, get in touch with us today at [email protected]. You may also fill out the form below to share your intention with us.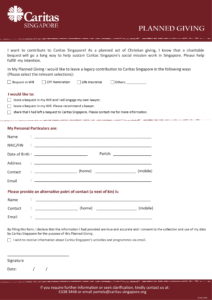 Alternatively, you could choose to go about it via the following ways:
Consult a solicitor/estate planner for advice on the best way to go about it
If you have a will, you may leave a legacy to Caritas Singapore by making a simple addition to your existing will, known as a codicil
If you do not have a will, contact your solicitor who can help you draft one with a legacy to Caritas Singapore

Your solicitor may find the following examples of legacy giving to Caritas Singapore useful:
"Subject to the payment of my funeral and testamentary expenses, just debts and estate duty if any payable on my death, I give the sum of $__________ to Caritas Singapore, a charity registered in Singapore (registered charity UEN: 200613504D) with registered office at 55 Waterloo Street #08-01, Singapore 187954, and I declare that the receipt of the treasurer or other officer of the charity shall be a full discharge to my executors and trustees."
Or:

"Subject to the payment of my funeral and testamentary expenses, just debts and estate duty if any payable on my death, I give [all]/[______%] of the residue of my estate to Caritas Singapore, a charity registered in Singapore (registered charity UEN: 200613504D) of registered office address [55 Waterloo Street #08-01, Singapore 187954] and I declare that the receipt of the treasurer or other officer of the charity shall be a full discharge to my executors and trustees."