Charities Week 2021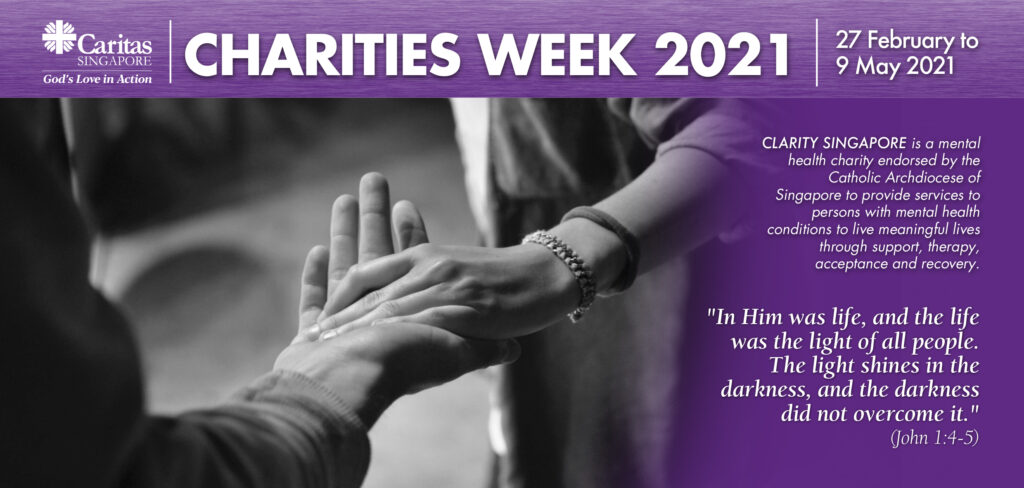 Each Lent, through Charities Week, Caritas Singapore collects donations to enable our Catholic charities to help the poor and marginalised we journey with, giving hope to those who depend on the generosity of others like you.
For many vulnerable and marginalised persons, trying to lead a dignified life with sufficient essential goods is challenging. With the global economy being hit hard by the COVID-19 pandemic, it only gets much harder.
Drawing inspiration from the words of St Paul when he says in his first letter to the Corinthians, "For just as the body is one and has many members, and all the members of the body, though many, are one body, so it is with Christ", it is not difficult to imagine that this must be one of the texts of Scripture that had contributed to the Church's social teaching on solidarity. Yet, this deeply Christian call for solidarity is not merely attractive to the Christian community, but to all, especially so during this trying time. #Onebody

Watch the Charities Week video reflection series on the theme: #OneBody!
We invite every individual who can share their resources with their brothers and sisters to be beacons of light this Charities Week.
"Sisters and brothers, I want to suggest that we can put our faith and hope into practice this Lent by remembering our vulnerable neighbours, as well as sharing with them our resources as generously as we can in this time of great need. By doing so, we are picking up the baton and continuing the work of the early missionaries who were committed to serving those in need in Singapore."
– Archbishop William Goh
Click here to read the full message from His Grace.
---
Caritas Singapore is the Catholic Church's social mission arm and the umbrella body for 27 Catholic charities and organisations which includes Clarity Singapore.
Your donations will support the work of these 27 Catholic charities to continue serving and empowering diverse and marginalised groups regardless of race or religion including low-income families, youth-at-risk, the incarcerated, people with physical disabilities, and also people with mental health problems. Caritas Singapore also provides formation on Catholic Social Teaching for Catholic communities in Singapore to help Catholics live out the social mission of the Church. It is also a member of Caritas Internationalis, a global confederation of over 160 humanitarian organisations.
---
Ways you can donate:
Donate by Cheque
Write a cheque payable to "Caritas Singapore", and drop the appeal envelope (available at all parishes) into your parish donation box or you can download the appeal form here and mail it to: 
55 Waterloo Street #08-01
Catholic Centre,
Singapore 187954
Alternatively, you can email [email protected] to request for an envelope to be mailed to your house.

Donate by Cash
Drop the appeal envelope in your parish donation box with your cash donation.
Please DO NOT MAIL CASH.
Alternatively, you can email [email protected] to request for an envelope to be mailed to your house.

Charities Week Appeal Envelopes
You can get your envelopes from your parish, download the form here or email [email protected] to request for an envelope to be mailed to your house. 

Donate Online
Click here to use your Credit Card to donate on Giving.sg.

Donate Monthly
Click here for monthly donations online. Alternatively, you can download the GIRO form here for your monthly donation.

Legacy Giving
Click here if you would like to donate by leaving a legacy to Caritas Singapore or any of the organisations that Caritas supports.
---
Things to note:
Charities Week donations are tax deductible. Please select the option for tax deduction, and provide your details clearly (i.e., name as per NRIC, and NRIC number)
We do NOT do house-to-house or street collections
Cash donations in the appeal envelopes should be done through the parishes
Click here for the Frequently Asked Questions.