Charities Week 2018
Each one of you has received a special grace, so, like good stewards responsible for all these varied graces of God, put it at the service of others. – 1 Peter 4:10
Charities Week is the annual Archdiocesan fundraising campaign held during the season of Lent which provides the much-needed funding for Caritas Singapore to continue our work.
Where will your contributions go?
Your donation will provide much needed funding to support the charitable work of Agape Village, a project of Caritas Singapore and the many Catholic charities and community organisations under its umbrella. Collectively, these groups serve over 50,000 beneficiaries in need such as the poor, families, youth and children, the incarcerated, migrant workers, and persons living with HIV / AIDS.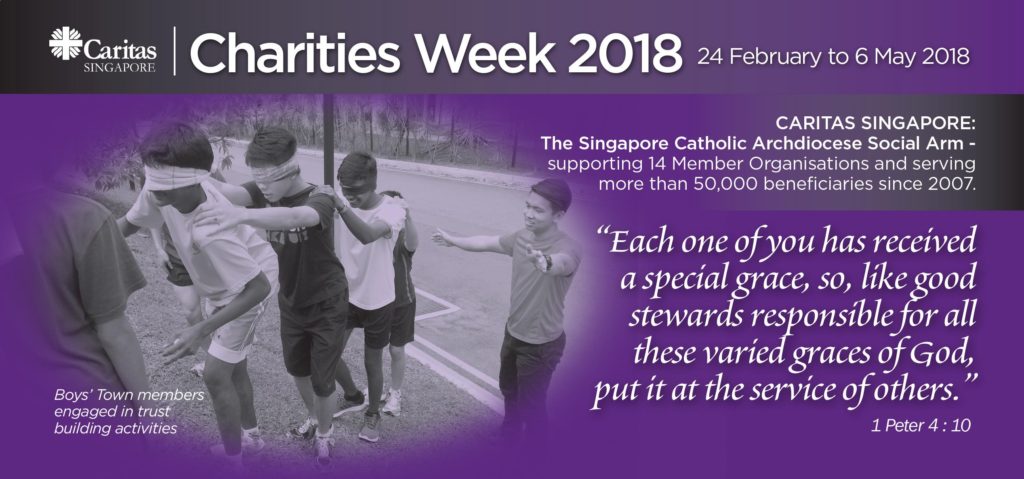 Please pick up an appeal envelope and give generously. It will enable our Catholic charities to further their cause and do more to help our less fortunate brothers and sisters in need."
*All Donations are eligible for 250% Tax deduction
How to donate to Charities Week 2018?
Pick up a Charities Week 2018 appeal envelope from your parish. Donations can be made in the following ways:
By Cash donations:
Drop the appeal envelope in the designated box in your parish with your cash donation.
By Cheque:
Write a cheque payable to Caritas Singapore and drop the appeal envelope in the designated box in your parish or mail it to:
55 Waterloo Street #08-01
Catholic Centre Singapore 187954
By Credit or Debit Card:
Charities Week Campaign is available at giving.sg, a safe and secure platform managed by the National Volunteer & Philanthropy Centre (NVPC).
By Giro:
Please fill in the Giro Donation Form found in the Charities Week 2018 appeal envelope and drop it in the designated box in your parish.
Tax Deduction:
Charities Week donations are tax deductible of up to 2.5 times the amount of donations. Please ensure that the option to request for tax deduction is selected and provide the necessary details (i.e. Name as per NRIC & NRIC number) in order to receive tax deduction.
Your contribution can make a difference to the lives of our beneficiaries through the work of our member organisations. Thank you for your generosity!