Carrying Our Crosses Together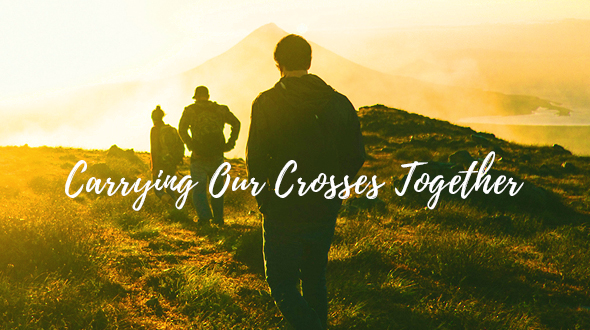 "Awe came upon everyone, because many wonders and signs were being done by the apostles. All who believed were together and had all things in common; they would sell their possessions and goods and distribute the proceeds to all, as any had need. Day by day, as they spent much time together in the temple, they broke bread at home and ate their food with glad and generous hearts, praising God and having the goodwill of all the people. And day by day the Lord added to their number those who were being saved." – Acts 2:43-47
Imagine walking with the first generation of Christians. Praying with them. Breaking bread with them. And, sharing our day-to-day burdens "with glad and generous hearts".
I am sure it would be easier for us to carry our crosses, whatever they may be.
In my 17 years as a member of a Christian community called Couples For Christ (CFC), I have seen this first-hand. We have several mini-communities, two of which cater to children and youths – Kids for Christ and Youth for Christ respectively. The children and youths in these communities grew up to be joyful and responsible young adults, despite the problems and challenges their families faced.
Now, imagine being cut off from such a life-giving community, with no one to rely on but yourself.
Every burden, every problem, every challenge would seem heavier and overwhelming.
Last Sunday, I attended the re-dedication of the Church of Our Lady Star of the Sea after three years of renovation works. In his homily, Archbishop William Goh highlighted the importance of nurturing communities in sustaining youths' faith after Confirmation.
The lack of a support group on whom they can depend or turn to in times of difficulty. I think it is among the reasons why some youths fall by the wayside.
It is good to know that the government and social service agencies are taking steps to provide upstream support for youth-at-risk.
We can play a part too.
We can create and sustain life-giving communities where youths can care for one another, share their blessings, and help each other carry their crosses.
---
Related Story
---
Manolo L. Fetalvero is a husband, father of three boys, and the IT Manager of Caritas Singapore. He loves listening to classical music and sings R&B songs. His favourite singers are Louis Armstrong and Ella Fitzgerald.