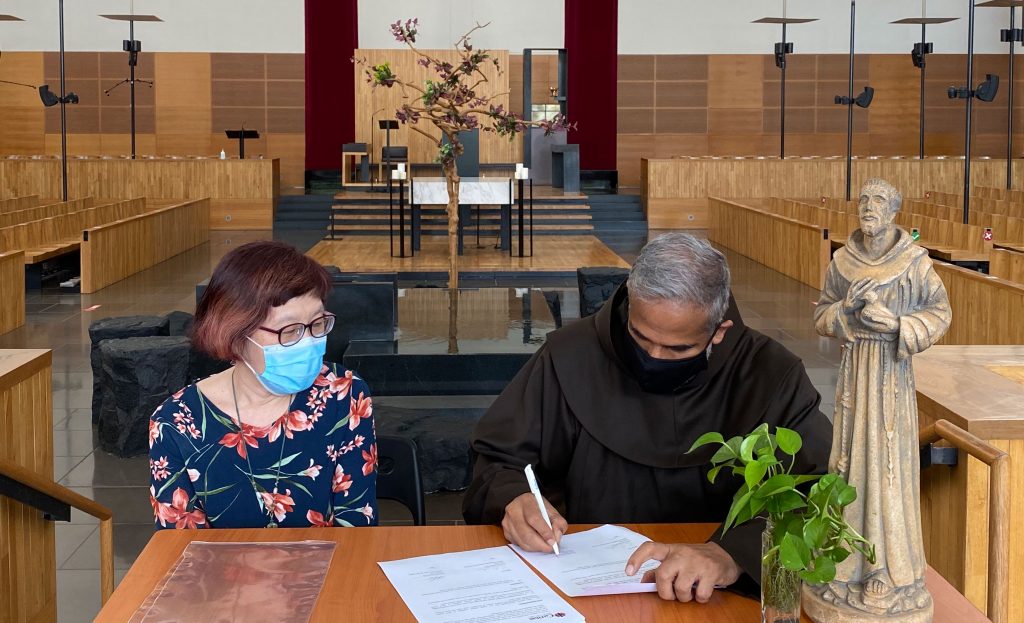 When faith and social mission meet, something truly beautiful starts to emerge and grow; we witness God's Love in Action. 
The Caritas Singapore family has been journeying with people in need in our community for many years.  
For Caritas Chair, Prof Tan Cheng Han, it has been his deep desire to reach out to the community through parishes. With the formation of the Catholic Social Workers Guild (CSWG), and witnessing the new and emerging needs from the impact of COVID-19, it was divine providence indeed that St Mary's reached out to Caritas Singapore to explore setting up an Outreach Office in the parish; a wish come true. 
Prof Tan shared, "The organizations within the Caritas Singapore family have shared God's love faithfully with the poor and marginalized for decades. To better fulfil our social mission, we want to work more closely with parishes which have deep connections with their communities. My hope is that through partnerships with parishes the Caritas family can reach out to even more people who are in need so that they can experience God's love in action." 
Indeed, our parishes are places where we naturally come together to support and be supported spiritually as we grow as Catholics. The addition of the Outreach Office brings the same people a step further, if needed, to be guided to the relevant professional agencies that can understand their social concerns, be it physical, mental, emotional, or psychological, and work towards empowerment.  
Parish priest, Friar Michael D'Cruz, OFM, says, "St Mary's had to decide what would be the HEART of the Parish. The answer came naturally with the situation we find ourselves in, the Jubilee of the Parish and we, being a Franciscan Parish. We had to see how we could outreach to those in need and allow parishioners and friends to become involved online or in person. This required professional training and collaboration and hence we reached out to Caritas." 
In May 2020, St Mary's shared with Caritas Singapore and the CSWG their plans for their outreach program using the Jubilee Solidarity Fund (JSF) to support families in need during their Jubilee year celebrations and the plan to set up an outreach office. The aim of the Outreach Office is to be a one stop point to support parishioners or people walk-ins who are seeking help.  
Caritas Singapore ED, Ms. Christine Wong, and volunteers from the CSWG came together to plan a training model to support SMOTA staff and volunteers with basic case management skills including information and referral services.  
A successful training was conducted via Zoom on 4th July 2020 with more than 30 participants from St Mary's and another training on 19th September 2020. After the training, Ms. Wong worked closely with St Mary's to formalize the operations of the Outreach Office.  
Advisor to the CSWG and social work trained as well, Ms. Wong shared, "The parish is the place where one can seek for peace and solace from our worldly and spiritual issues. The plan for the Outreach Office at SMOTA is to provide an additional aspect of how we extend our care to those who seek help and showing God's love in action"  
"This collaboration provides a platform for the CSWG to impart basic Social Work skills and knowledge to support the workers and volunteers of the Outreach Office as they intervene in the lives of the members in the community in need of practical help and assistance." Ian Peterson, Chairman, CSWG. 
A participant shared, "Thank you very much for the information and the good effort in arranging all this for us, will be good to do a review with those who attended as to know their challenges and build skills from there." 
Another participant added, "Thank you for the training which was very valuable. Will be applying what was learned especially on listening to the pastoral care ministry." 
This pilot initiative would start to take shape through the mentoring of volunteers on assessments of applications for financial aid, receiving walk-in cases, etc. The project, with volunteer support from CSWG, is expected to take about 6-9 months to complete. As the pilot Outreach Office grows and strengthens, the same model can be applied in other parishes as well.  
Prof Tan shared, "Outreach offices in our parishes where many come together can be a bridge connecting people in need in our midst to professional care and assistance. At Caritas, we hope that we can increase these touchpoints if more parishes are similarly interested to work with us, thus enabling the Church to work towards empowering even more people, especially in these difficult times."