Be Still, My Mind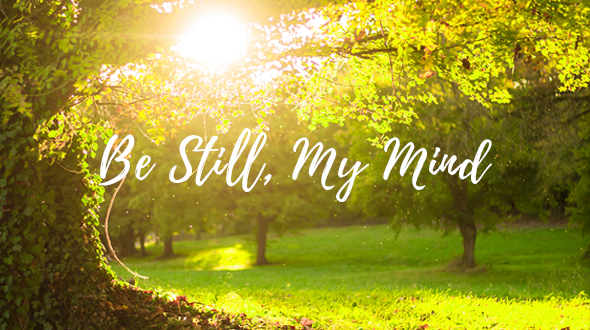 "Who of you by worrying can add a single hour to his life? Since you cannot do this very little thing, why do you worry about the rest?" (Luke 12:25-26)
When we are anxious, our heart beats faster, breathing picks up, and muscles become weak. In more severe cases when anxiety takes control over our lives, we feel dizzy and get frozen, preventing us from concentrating on anything else.
Have you ever experienced this? What did you do to overcome your anxiety?
For the Myanmar nationals living in the Choa Chu Kang cemetery, I imagine their daily lives are filled with worry about the future and family back home, and fear of getting discovered by the authorities. One of them shared, "Of course I am scared of being caught. But if they catch me, I am okay with it… I don't like staying here anyway. Who likes staying in a cemetery?" For other vulnerable groups, their anxiety over issues ranging from financial difficulties to uncomfortable living arrangements may be relieved by the various government schemes.
I am no stranger to worry, too.
Recently, many things happened that exhausted my mind and disturbed my peace. And I searched for ways to quieten all the "monkeys talking" in my head (no offense to my primate friends).
One solution has not steered me wrong: Going for a long walk or run in our beautiful parks, particularly Fort Canning Park with its lush greenery, rich history and gorgeous sunsets. Thanks be to God for His beautiful creations! Spending quiet time alone with Him in nature helps me to clear my mind and, slowly but surely, let go of my fears and worries. Now, I have worn out my running shoes.
"Don't worry about food, or what you are to wear.
Is life not more precious by far?
I'll clothe you in My image and fill your emptiness
and love you as you are."
– Sister Miriam Therese Winter
I remember these lyrics from a hymn I used to sing in school. Every time I hear it now, I am reminded how silly I am worrying.
Anxiety may be part of human nature, but we have the power to decide whether it controls our lives. And with God's help, we can definitely overcome it.
"Do not fear" is one of the most repeated advice in the Bible. I think God knows we would not fully understand, remember or believe. It's time we respond to Him, letting God (not anxiety) take the wheel.
---
Anita Sebastian is part of the Communication team at Caritas Singapore. She encourages everyone to focus on joy and positivity. She has moved on from 'Baby Shark' to 80s music.