Fasting and Almsgiving "the two wings of prayer"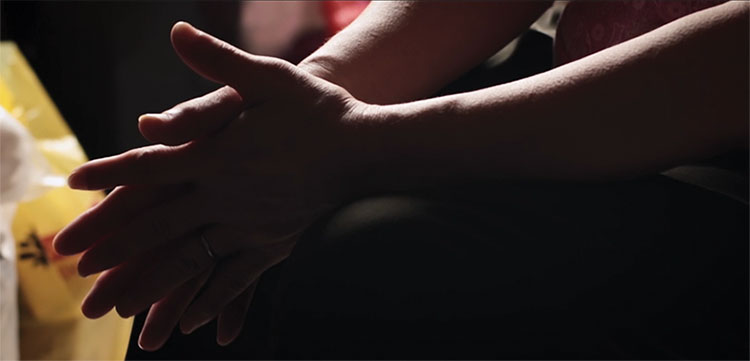 As we enter into the season of Lent, it is worth pondering St Augustine's thoughts about the "three pillars" of traditional Lenten observance.
St Augustine once said: "Do you want your prayer to fly to God? Then make two wings for it, fasting and  almsgiving."
These observances help us turn anew to our Lord, as Pope Francis stresses in his recently released message for Lent this year:
"This season urgently calls us to conversion. Christians are asked to return to God 'with all their hearts' (Joel 2:12), to refuse to settle for mediocrity and to grow in friendship with the Lord. Jesus is the faithful friend who never abandons us. Even when we sin, he patiently awaits our return … Lent is a favourable season for deepening our spiritual life through the means of sanctification offered us by the Church: fasting, prayer and almsgiving."
But how do fasting, prayer and almsgiving work together to deepen our relationship with God?
Father David Garcia, OP, a moral theologian based in Singapore, explains how these three pillars of Lent have profound implications for our spiritual lives. Fr David says: "Prayer is about how to improve our relationship with God. Almsgiving is about how to improve our relationship with others, by thinking of people who may not be as fortunate as us, and helping them in their need.
"Fasting is interior, focusing on our relationship with ourselves by strengthening our will … to be able to educate our desires."
Concrete actions are important, adds Fr David. "The point is consistency between your prayers and your actions," he says.
"It is very easy to ask God to feed the hungry, help the poor. If you really want people to be helped, if you really want to show mercy to somebody, you can do something about it, otherwise your prayer will not be a real prayer."
In a similar vein, almsgiving cannot be a kind of "conscience laundering", says Fr David. If someone is giving $50 in a donation as a way of easing his conscience because the presence of the poor is bothering him, that would be a wrong attitude, says Fr David. Pope Francis also talks about giving alms in a deeply personal way. In addition to connecting to God with these Lenten practices of penance, we also connect with other people, "touching the flesh of Christ", as the Pope says.
Pope Francis says in a homily: "We must go in search of the people who are the flesh of Christ… When I used to go to hear confessions… I would always ask them: 'Do you give alms? 'Yes, Father.' 'Very good.' And I would ask them two further questions: 'Tell me, when you give alms do you look the person in the eye?' 'Oh, I don't know; I haven't really thought about it.' The second question: 'And when you give alms do you touch the hand of the person you are giving them to or do you toss the coin at him or her?' This is the issue: the flesh of Christ, touching the flesh of Christ."
This loving connection is not contradictory to, but "compatible" with what the Bible says about giving to the needy, according to Fr David."But when you give to the needy, do not let your left hand know what your right hand is doing." — Matthew 6:3.
This biblical verse warns against almsgiving as "an act of pride, rather than an act of generosity", says Fr David.
He explains that, at the same time, like the Pope says, "you can look the person in the eye when giving money (but) it's not for others to see".
When it comes to fasting, Fr David says: "In Lent, we practise this virtue of temperance; we educate our desire when it comes to eating. (In general), if our desires are out of control, it can ruin our moral and spiritual life."
We can all help and support our brothers and sisters in Christ in whatever ways we can, just like how the widow in the New Testament gave the very little money she had, and was praised by Jesus for her great generosity.
At Caritas Singapore, the social mission arm of the Archdiocese of Singapore, we serve over 50,000 beneficiaries through the work of our 25 member organisations that support a wide range of groups such as low-income families, troubled youths, those who are physically challenged, those with mental health problems and those with HIV/AIDS. During this Lenten season, Caritas Singapore appeals to all Catholics to be generous in donating to Charities Week 2017 (see below for more details), whose proceeds go towards helping our thousands of beneficiaries.
May our fasting and almsgiving help our prayers fly to God during this season of renewal, and deepen our relationship to our Lord and to our brothers and sisters in Christ.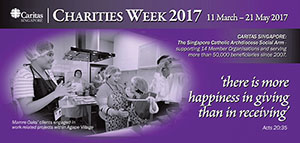 How to donate to Charities Week 2017
Pick up a Charities Week 2017 appeal envelope from your parish. Donations can be made in the following ways:
By Cash donations:
Drop the appeal envelope in your parish offertory box with your cash donation.
By Cheque:
Write a cheque payable to Caritas Singapore and drop the appeal envelope in your parish offertory box or mail it to:
55 Waterloo Street #08-01
Catholic Centre Singapore 187954.
By Credit Card:
Charities Week Campaign is available at www.giving.sg, a safe and secure platform managed by the National Volunteer & Philanthropy Centre (NVPC).
Tax Deductions:
Charities Week donations are tax deductible of up to 2.5 times the amount of donations. Please ensure that the option to request for tax deduction is selected and provide the necessary details (i.e. Name as per NRIC & NRIC number) in order to receive tax deduction.
Your generosity can make the difference to the lives of our beneficiaries through the work of our 25 member organisations. Please donate generously.