Living Our Faith in Community Workshop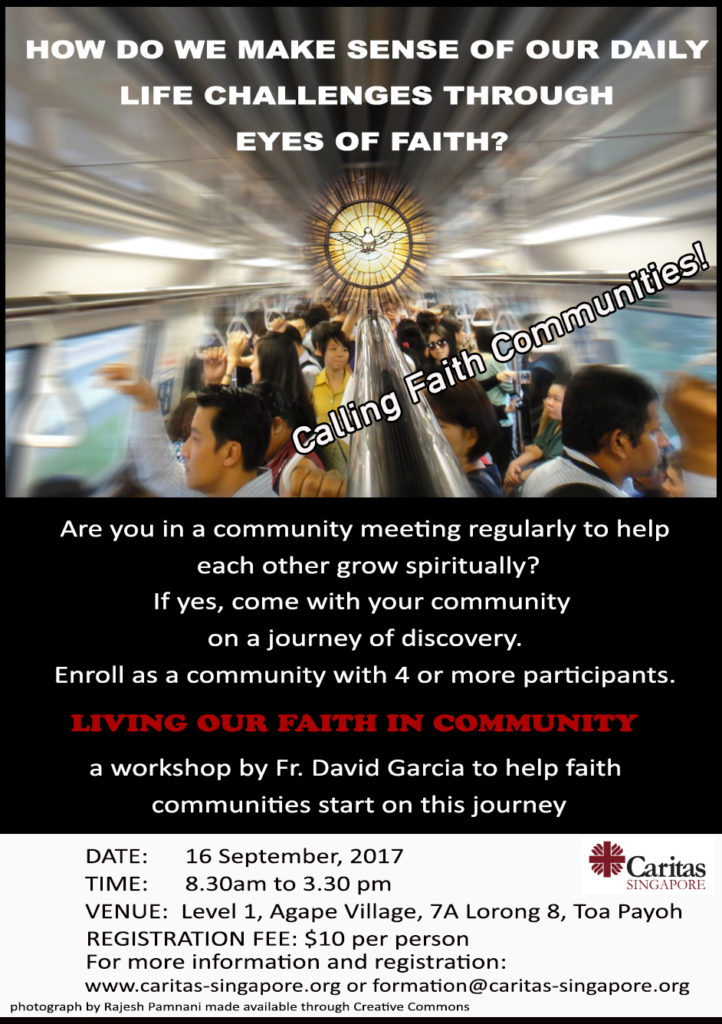 By Fr. David Garcia, OP
Is your faith compatible with life in Singapore? Have you considered the relevance of your faith in meeting the challenges you face in daily life today? In our time and our culture today, the words of Jesus Christ to "Love God and to Love neighbour" remains as challenging as ever. What does this mean and how do we respond to this Great Commandment?
Caritas Singapore invites you to join us as we go on a learning journey, together with our guide Fr. David Garcia, as we attempt to tackle some of these complex issues through the lens of the Catholic Social Teaching. This workshop is for new or existing groups – to help build them communities of support which may uphold and live the principles of Human Dignity in the different aspects of life. It will consist of content teachings, personal reflection activities, small group discussions, group work and plenary presentation.
Date: 16 September 2017
Time: 8.30 am to 3.00 pm
Venue: Level 3, Agape Village, 7A Lorong 8 Toa Payoh, Singapore 319264
Registration Fee: $10 per person
Please note that you may register for this workshop only as a group (minimum of 4 persons though we may consider groups consisting of smaller numbers). For more information and to register, interested applicants could email formation@caritas-singapore.org or call 63383448.