Advocacy and Research
The Advocacy and Research Committee is responsible for giving voice to the vulnerable. We advocate with and on behalf of them to encourage change in social norms and mindsets. Our aim is to foster a more caring, compassionate and inclusive society.
Our commitment to advocacy is rooted in our Catholic Charities' mission, God's word, and Catholic Social Teaching.
We identify and advocate for the needs of the vulnerable through research, RoundTable discussions with stakeholders, and public education. Figure 1 below provides a visual overview of various vulnerable groups in Singapore.
For more information, please see the reference list.

Programmes
Research
We conduct research to understand the work of our member organisations and to elucidate under-served needs in the social sector. The research findings will enable the committee to address the gaps of social service support and advise on service positioning for the future.
We also collect data through our Integrated Case Management System (ICMS) – an information base of clients served by member organisations housed at Agape Village.
Caritas RoundTable
Our RoundTable focuses on under-served social issues faced by vulnerable people in Singapore. It serves as a platform for Caritas Singapore to dialogue and collaborate with non-profit organisations, academia and other institutions seeking to make a difference on pressing social issues regardless of race, religion or other affiliations.
Click here for information on our latest RoundTable.
Public Education
We raise awareness about poverty in Singapore through a public education campaign called 'Singaporeans Against Poverty'. Launched on 21 October 2013, the campaign calls on the public to act and make a difference in the lives of poor.
The campaign website provides information on the state of poverty in Singapore. We also have a Facebook page to feature local and international stories of individuals and families in need, as well as community initiatives to alleviate poverty.

Be an Advocate
We invite you to join us on this mission to help the vulnerable.
As an Advocate, it is important for you to practice the three-step "See-Judge-Act" guide drawn from the Catholic Social Teaching. This helps you to assess everyday examples of poverty, and to take positive and meaningful action.
(Adapted from the Catholic Social Teaching series – Reading the Signs of the Times).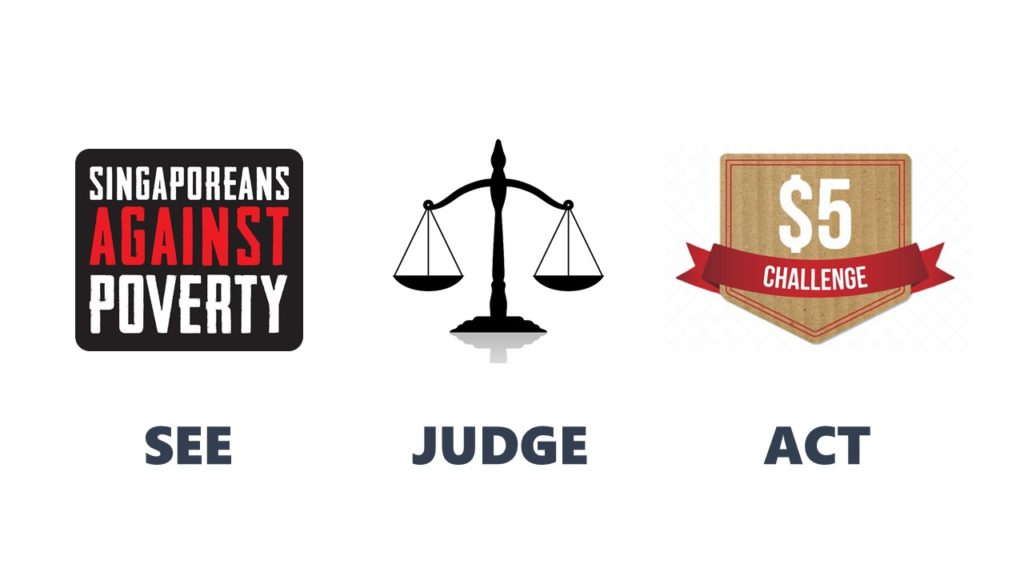 See
Judge
Act